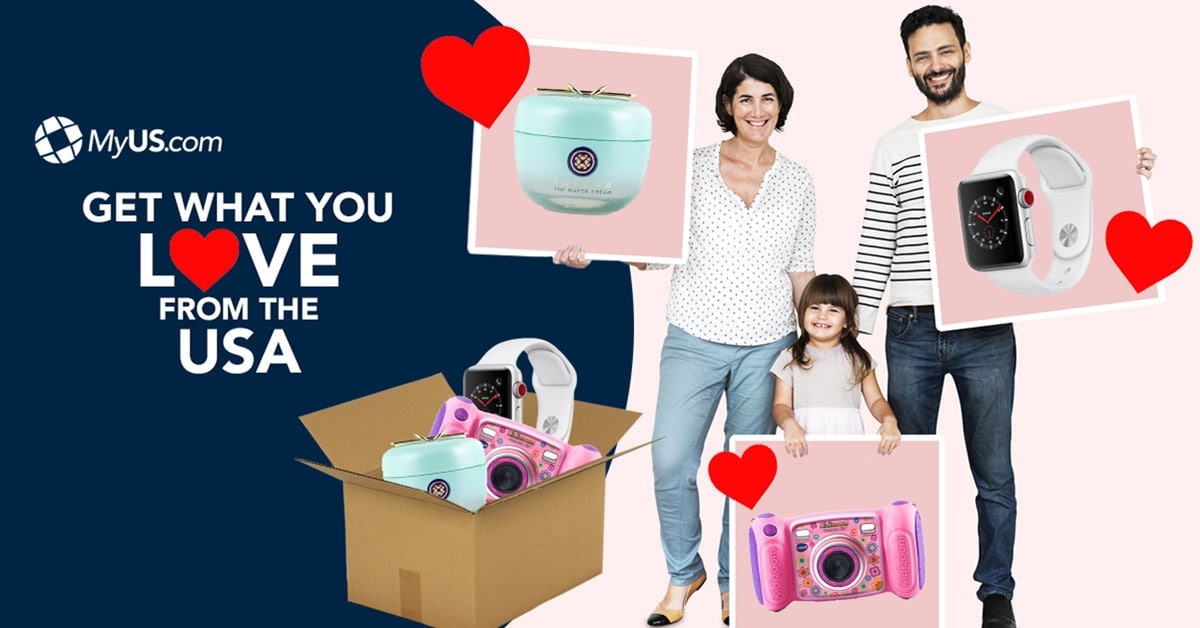 How UK Residents Can Buy American Products Online (and ship them home fast)
Do you want to buy products online from the United States but live in England, Scotland, Wales or Northern Ireland? You may find many American websites don't ship internationally. That's where MyUS can help.
When you join, you'll receive a MyUS shipping address and suite at our warehouse in Florida, USA. Shop nearly any US retailer you want with your MyUS address–even if they don't ship internationally.
MyUS has helped thousands of people across the UK and Great Britain buy and ship their favorite US brands overseas. Here's how we do it:
Become a MyUS member to receive your own MyUS suite address.
Shop online at American stores (such as Amazon, Nordstrom, Forever 21, NYX Cosmetics and The Disney Store)
When it's time to checkout, enter your MyUS address as your shipping address.
We'll receive your purchases, help with any necessary customs paperwork, then reship your packages to your home in GB/the UK.
Ready to start shopping US stores online? Join MyUS to instantly receive your US address.
How Much Does it Cost to Ship from the US to Great Britain or the rest of the United Kingdom?
International shipping prices depend on these factors:
How much your package weighs 
How fast you want your boxes shipped
The global shipping carrier you choose (as a member, you'll receive discounted rates from FedEx, DHL and other leading shipping carriers)
Where your item is being shipped in England, Scotland, Wales or Northern Ireland
If you're a MyUS Basic or Premium member (Premium Members receive an extra 20% off shipping rates)
If you have a specific item in mind you'd like to ship from the United States, use our ship rate calculator on this page to estimate delivery costs to the UK or GB.
No Size is Too Big
MyUS prices are based on package weight ONLY, not package weight PLUS size like most shipping or freight forwarding companies*. Because of this, members saved millions of dollars on shipping costs in 2017 by avoiding hidden costs and surprises.
No calculations or confusing math needed!
What US Stores Can You Shop When You're a MyUS Member?
We've helped people all around the world shop American stores and ship home everything from makeup, jeans, shoes and designer clothing to iPhones, computers, cameras and tools.
MyUS members have shopped and shipped items from more than 100,000 US-based retailers (and saved a lot of money buying products from the US instead of at home!). Some of our UK and GB members' favorite stores include:
Amazon
GAP
Ralph Lauren
J Crew
Nordstrom
Carter's Children's Clothes
Forever 21
Disney Store
Zulily.com
The Body Shop
Adidas shoes and athletic gear
The American Girl Store
Drugstore.com
Victoria's Secret
Walmart.com
Kohl's Department Store
NYX Cosmetics
6PM
Join today to receive your MyUS address, and you could be shopping American stores within minutes. The only question is, what are you going to buy first with your new MyUS shipping address?
How Fast Will I Get My Package? Average US to UK/GB Expedited Shipping Times
MyUS works to get your expedited packages shipped to you as soon as possible. With express shipping, you'll receive your shipment within 3 to 4 days of when it arrives at our US facility.
If you choose standard delivery to Great Britain or other UK countries, your packages will typically arrive in 5 to 10 business days. You will have the option to select the international courier service you prefer (such as DHL or FedEx).
Cities We Serve in the UK: England, Scotland, Wales and Northern Ireland
MyUS has been shipping American goods to people in the UK since 1997. Some of the cities we serve include:
London (England)
Belfast (Northern Ireland)
Manchester (England)
Glasgow (Scotland)
Wakefield (England)
Liverpool (England)
Derry/Londonderry (Northern Ireland)
Bristol (England)
Cardiff (Wales)
Birmingham (England)
Cardiff (England)
Edinburgh (Scotland)
Bristol (England)
Castlereagh, Dundonald (Northern Ireland)
Wolverhampton (England)
Swansea (Wales)
Hamilton (Scotland)
Kirklees (England)
Barry (Wales)
Aberdeen (Scotland)
Bradford (England)
Lisburn (Northern Ireland)
Newport (Wales)
East Kilbride (Scotland)
Leeds (England)
Ballymena (Northern Ireland)
New Castle (England)
Neath (Wales)
Dundee (Scotland)
Sheffield (England)
Craigvon, Lurgan, Portadown, Bleary (Northern Ireland)
Cumbernauld (Scotland)
North Lanarkshire (England)
Newtownabbey (Northern Ireland)
Wrexham (Wales)
Fife (England)
Livingston (Scotland)
Wirral (England)
Sunderland (England)
Paisley (Scotland)
Bangor (Northern Ireland)
We ship US goods to every city and town in the UK, so don't be concerned if you don't see your hometown on this list. You can still count on reliable, fast delivery from MyUS. We not only serve the United Kingdom; we also serve more than 220 other countries and territories, including France, Belgium, Germany, Ireland, the Netherlands and Denmark.
Items You Can't Ship to Great Britain or the United Kingdom
There are certain products that are illegal to ship outside of the United States, as well as items that are not allowed to be imported into the United Kingdom and Great Britain.
We have listed some of those items below, but for the most recent and complete list, please check Gov.UK's import and export website. Their website will also have comprehensive information about duties, taxes and VAT.
Most animal furs, animal hair and wool
Beef jerky and salami
Knives (flick, gravity, spring and butterfly knives)
Samurai swords longer than 50cm
Chili (except dried whole chilies), chili products, curcuma, curry powder, palm oil, turmeric
Products made in Iran
Fictitious stamps
Seeds
Vegetable matter
Eggs
Straw, soil
Meat, milk products and whey protein meant for personal consumption
Counterfeit goods, coins and banknotes
Lottery materials
Goods made in prison
Asbestos
Indecent or obscene material
Video senders (equipment capable of transmitting video images)
Tobacco products (including E-cigarettes and vaping products) for FedEx, DHL, UPS, and USPS carriers.
If you still have questions about whether you can ship an item from the USA to England, Wales, Scotland or N. Ireland, our customer service team can help. Contact us today.
Notes on shipping to GB or the UK: Delivery times vary based on your location, weather, political forces and your local Customs Office. Please see our FAQ for information on issues that could affect transit times or require additional information when shipping to the United Kingdom. Express shipping via DHL, UPS or FedEx Express. Economy shipping via FedEx Economy or USPS. Freight shipping via FedEx Air Freight.
**Applies to international shipping from the USA via DHL, FedEx, and UPS and "Budget Carrier" option. Excludes oversized shipments and palletized shipments. Oversized shipments are those with linear dimensions (total Length + Width + Height) greater than 80 inches (203 cm). Items  requiring some types of special packaging (e.g. crates), are not eligible for MyUS TruePrice pricing. MyUS TruePrice guarantee does not include additional or optional services such as insurance, dangerous goods fees, customs, duties or taxes. Comparison rates based on comparable services as of April 2018.​