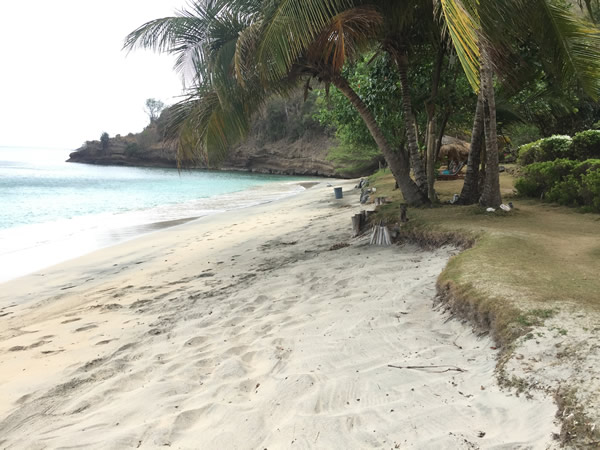 By Candice Licence
Published 10/17/2018 by Transitions Abroad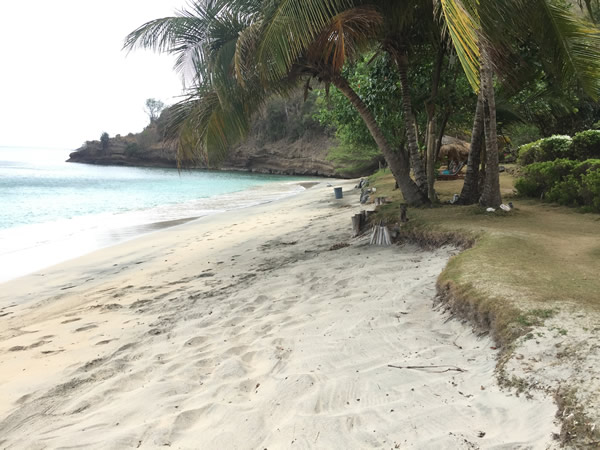 One of many stunning, white sand beaches on Grenada's Caribbean coast.
Moving to the Caribbean is the dream of many people, but essential questions need to be answered to make the dream a reality. How do you choose the perfect island? How easy (or hard) is it to make the move? What adjustments will you need to make to adapt to a new culture? Is what you gain worth what you will give up? These were the questions we had to answer before we happily settled in Grenada, West Indies, The Spice of the Caribbean.
This guide covers what attracted us to move to Grenada over other Caribbean islands, key issues we considered, helpful hints, how we moved our possessions, recommendations on buying versus renting, and how we make money to supplement our retirement income. In addition, useful links to more information are provided about the lovely island we call home.
Why We Chose Grenada
Grenada is in the Southern Caribbean, 12 degrees north of the equator and below the hurricane belt. Hurricanes are rare. It's a volcanic island that is mountainous and has a lush rainforest with ten impressive waterfalls. There are numerous, beautiful beaches. The island's craggy coastline and reefs protect much of the Atlantic side from huge waves, and the Caribbean side is calm. 
Over 50% of the island is pristine forest, and the remainder of the forested area is only sparsely populated. Because of the mountainous terrain, there are breathtaking views everywhere. Majestic mountains, verdant valleys and an abundance of stunning sea views appear unexpectantly as the roads zigzag around the undulating topography.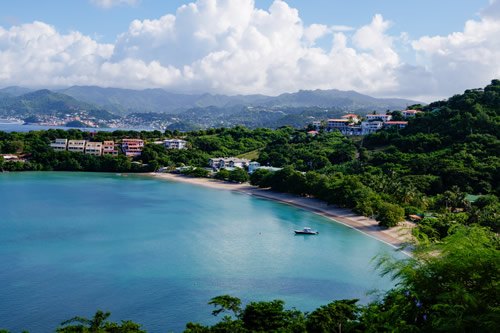 Beautiful, tranquil, and unspoiled Morne Rouge beach with Grenada's gorgeous mountains as a backdrop.
These beautiful falls tumble into a swimmable lake, are easily accessible and are surrounded by lush rainforest. Pure delight.
In addition to all the expected wildlife, Grenada is one of the primary Leatherback Sea Turtle nesting sites in the Caribbean. The Leatherback Sea Turtle is the world's fourth largest reptile, can grow up to 6 feet long and weigh up to 2,000 lbs. Each year between 700 and 1,000 nests are laid in the northern part of the island. Locals and well as people from all over the world come to witness this unforgettable event and to volunteer to tag, survey, and collect relevant data about this endangered species.
Nature rules this island, but there are also lots of things to do and places to explore. Music festivals, multiple sailing regattas, The National Museum, an ancient but functioning rum distillery, gorgeous gardens and working estates that grow cocoa, nutmeg, and a wide variety of spices, fruits, and vegetables all entice both visitors and locals. Grenada has some of the best snorkeling and diving in the region including the wreck of the Bianca C, also called the Titanic of the Caribbean. It is also home to the first underwater sculpture park in the world.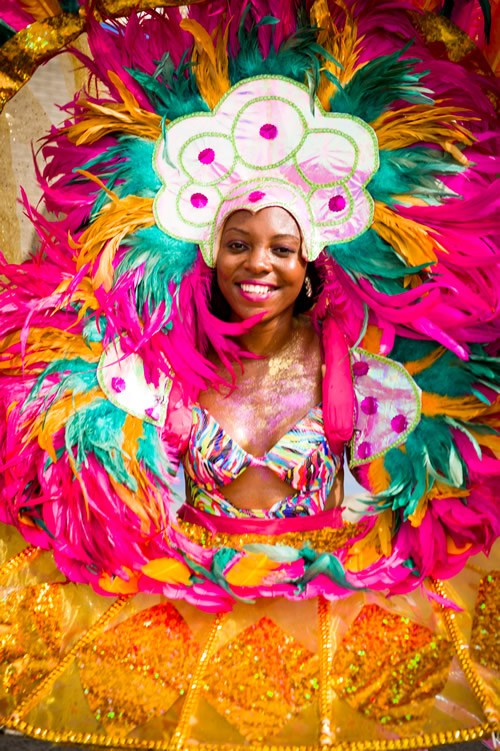 Grenada's Carnival, SpiceMas, is celebrated in August and is a huge, multi-day party of pageantry, music, parades and fun.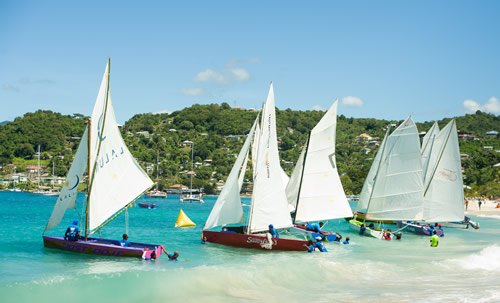 The annual Workboat Regatta is a fierce sailing race between fishing villages who compete for bragging rights as the best sailors for the following year.
Grenada is one of only a handful of Caribbean islands where it is possible to buy hurricane insurance for a boat. Many people moor their boats in Grenada during hurricane season. There is a large, established yachting/sailing community. Eight marinas provide upgrade and repair services, maintenance and provisioning for small boats up to 300-foot superyachts.
Prevailing trade winds keep the temperature between 70 and 88 degrees (average 77 to 81 degrees) and the rainy season could be called the green season. Even though it rains most days from April through November, showers are short—often lasting less than 15 minutes. Grenadians generally find a building to shelter in for a few minutes, catch up on the local news, and then continue along their way when the sun reappears. As you move closer to the rainforest, it rains harder and more often.
The Capital City, St. George's, is the busy center for all significant commerce and shopping and then it's just a short drive into nature. 58% of people live in or around either St. Georges or Grenville, the only other "city" on the island. Most other people, including expats, live on or near the coasts.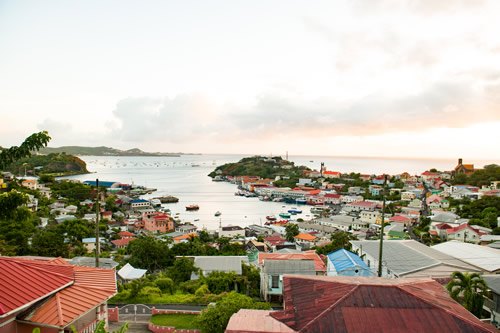 Grenada's capital city, St. George's, is wrapped around a beautiful harbor called the Carenage. It is one of the most picturesque harbors in the Caribbean.
Grenadians are open, friendly and their warmth is infectious. Everyone says hello to everyone else as while going about his or her day. If you are standing in a line and a new person approaches, they say good morning, and everyone in line says good morning back. It's hard to stay in an unpleasant mood when everyone wishes you well everywhere you go. I called a local restaurant one Sunday to see if we could have dinner there. The owner answered and said, "We're closed today, but if you are hungry, I'll feed you." This kind of interaction is common in Grenada.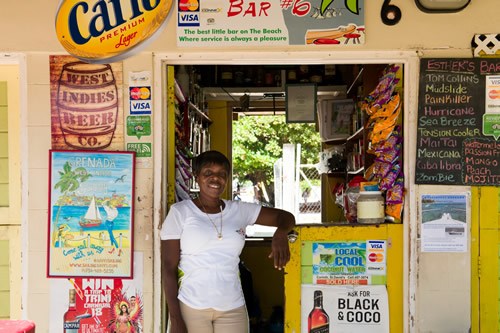 Always smiling, Esther and her son make the best cocktails on Grand Anse beach.
People go out of their way to help. When parking our car on a narrow street, we accidentally dropped our front tire into an open, deep box drain. The car chassis was resting on the pavement. As we tried to figure out what to do next, four Grenadian men lumbered over, picked up our car, placed it back on the road, patted the hood, and waved us on our way. 
There was also the time we got lost when I suggested a shortcut through the rainforest. According to the map, the road went right into town. As we drove, the route became so narrow we couldn't proceed. The sheer face of the mountain was on the left, and a crumbling cliff was on the right. As we contemplated inching our way back down the road, a gentleman appeared from the bush and said, "Darling, what are you doing in this God-forsaken place?" He laughed and told us that the road hadn't been navigable for 30 years and redirected us back to civilization. This sense of community and support pervades the island.
Grenadians are very religious overall, but it is a gentle, loving approach to life. They accept that life is hard and pray to God to help them. They have a personal relationship with God that is easy to be around. They aren't trying to change anyone else. If you ask if they are coming tomorrow, the answer is always "Yes, please God" or "God willing."
Heritage and traditions are important. Calypso songs that provide a running commentary on current events, Carnival, Pageantry, traditional crafts, Pan music, African dancing, and drumming are all celebrated as Grenadians try to keep the best of what makes this island unique alive and vibrant while embracing tourism, progress, and technology. 
Grenadians are proud of their local food traditions—especially the tasty national dish, Oil Down. It's made from grated coconut, fish, chicken, callaloo, dumplings, and delicious spices and gets its name from the coconut that cooks down into a gravy. It is just one of many memorable, authentic dishes. African, French, and Indian cooking techniques and spices flavor the local food.
Grenada is called the Spice Island because of the abundance of spices grown. It produces a third of the world's nutmeg, and it is considered by many to be the best because of its aromatic flavor and moist texture. Nutmeg is such an integral part of Grenada that it is represented on the national flag and in the parliament building design.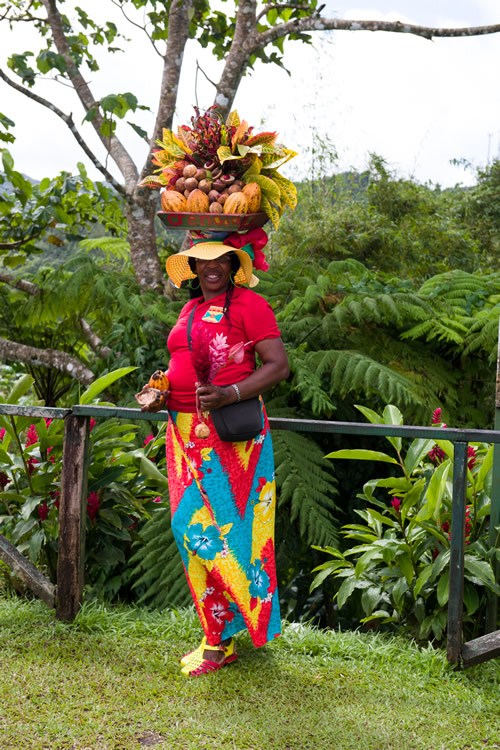 This proud Grenadian shows off the island's abundance of spices.
Cocoa is another important crop, and Grenada has become famous for its tree-to-bar chocolate. There are now four companies that grow, harvest, manufacture and sell chocolate right from their plantations. Cocoa and nutmeg shells are used as mulch, and their scent perfumes the air. Cinnamon, Cloves, Garlic, Ginger, Allspice, Turmeric, and Bay are also abundant. Spices flavor the local dishes, are made into necklaces, and are used in cosmetics, creams and healing ointments. 
Grenadians love to party. Whether for an informal gathering of friends, a large beach picnic, or a massive music event, people party hard and long. Jam-packed weekend music events generally begin late in the evening and commonly end the next morning. It's not unusual to see a poster that says 10 to 10 (meaning the party starts at 10 PM, goes throughout the night, and ends at 10 AM). At any event, there is always loud music, great local food, plenty to drink and usually lots of dancing.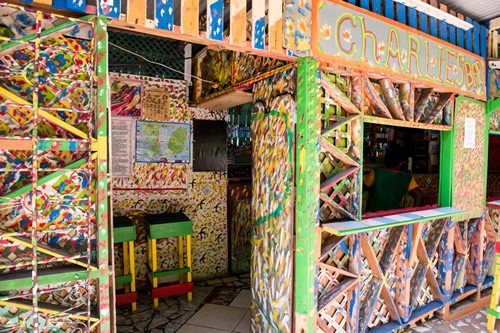 This bar is a work of art, inside and out, and makes for a great conversation starter with Charlie and his guests.
The principal reasons we chose Grenada are the island's natural beauty, including the lush mountainous rainforest and stunning beaches, the temperate climate with cooling trade winds, the fact that Grenada lies below the hurricane belt and, most important, the warm-hearted people who have welcomed us into their lives.
Making the Decision of Where to Move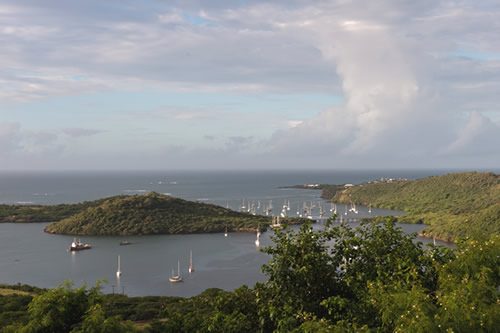 This is just one of hundreds of outstanding views you see as you tour around Grenada.
After answering the big questions such as does the island need to be English speaking, do you prefer a lush or arid environment, do you prefer hills or flat land, and how concerned are you about hurricanes, you also need to consider other significant questions. 
Is it easy to fly to other places you want to travel to with any frequency? JetBlue flies nonstop from Grenada to NY, and you can often buy a round trip ticket for about $350. American Airlines flies nonstop to Miami, and Delta flies nonstop to Atlanta. It is also easy to fly to Canada, England, and Germany.
What are your health requirements? Grenada has limited medical options. There is a respected private hospital that is very affordable, but most people fly off the island for any serious condition or significant operation.   
Are you able to slow down to the island pace and be accepting of Grenadians imprecise sense of time? Business transactions take more time to complete, and a healthy amount of patience is required. If you ask a Grenadian when they will arrive, they'll say, "just now" which could be anytime between 30 minutes to four hours. It's common for a Grenadian to leave their house after the time they are supposed to arrive at a location that's halfway across the island. Think about your concept of island time and multiply it by two—at least.
Crime also needs to be considered wherever you decide to move. Grenada is regarded as one of the safest islands in the Caribbean, and most of the crimes are either petty theft or violence against an acquaintance or family member. I feel safe here.
Before You Take the Plunge
Once you are serious about a specific location, there are two things I recommend. First, spend time at the least desirable time of year. For Grenada, that's probably September when it is the hottest, at the height of the rainy season and the most humid. You want to experience the off-season, and if it still feels right, then the next thing I recommend is to have an extended stay—three months if possible—and preferably live in the part of the island you are considering. This test will give you a good feel for everyday life—how far is shopping, how is the traffic, how easy is it to get around? Will you have a car? If not, how comfortable are you with taking local transportation? How often does it run and how close does it get you to where you plan to live? Walking that last mile can be tough in the Caribbean heat.
Driving in Grenada is doable, but not for the faint at heart. Driving is on the left; the streets are very narrow, curvy, sometimes steep, and it is common for people and animals to be in the road. There is an extensive, privately owned bus system of 15-person vans that charge up to US$6 per person depending on the length of the route. I am comfortable driving here, but it took me about three months not to be terrified when I encountered a cement mixer barreling towards me.
Living in the Caribbean is not inexpensive, but Grenada's cost of living falls just below the average for the region. This trial run will also help you determine a workable budget. Some websites give sample prices for everything from fruit to electricity, but only when you are in a place for an extended amount of time can you determine your specific needs. Electricity is costly, and air conditioning can be a significant financial drain. Our house is built to take advantage of the prevailing trade winds, so we only use air conditioning for our office (for electronics and photography equipment) and sometimes the bedrooms while sleeping.
Activities like how often you eat out and the kind of restaurants you prefer can make a big difference. A lovely local lunch costs about US$5 and a delicious local dinner runs between US$30 and US$45 with drinks and dessert. Touristy places run higher, and the food is not necessarily better. Grenadian food is very fresh and is nicely spiced. There is nothing better than freshly caught fish that is superbly cooked with fruit, spices and vegetables picked from local gardens. 
Imported goods are expensive, and often are not the same quality that you are accustomed to at home. Prices include the cost of the item, VAT, shipping, and customs. Customs charges vary and are dependent on the type of product. In Grenada, most imported plastic items are expensive. Medications are very inexpensive, and many do not need a prescription. We pay into U.S. Medicare and a prescription drug plan as insurance for the future, but we buy our drugs here for less money than the cost of the deductible.
Moving Your Possessions
We filled a 20-foot container with our possessions and shipped it out of Jacksonville, Florida; the last place we lived before we started traveling. You can easily ship freight out of New York, Miami, Toronto, or London for a reasonable price. We had a moderate amount of furniture, plus housewares, clothing, tools, and art. Grenada does not charge customs on used goods when you move, so we saved a lot of money by bringing down things we already owned. 
When we're in New York, we pack any items that we can't source here. There are good shipping companies in Brooklyn that are easy to work with and are inexpensive. Shipping a barrel from New York is about US$100, no matter how heavy it is, including the cost of the barrel. (This does not include VAT and Customs). We always fill additional suitcases with purchases, and we offer to host friends if they will Sherpa down items when they visit. 
To Buy or to Rent? … and Citizenship Considerations
My suggestion is to rent first unless you are very confident of what you want for housing and location. Renting gives you the opportunity to decide if you are in the right community, uncover local deals and potentially become a citizen before you purchase. There is a 15% Alien landowners' tax that inflates the purchase price for non-citizens. (There are discussions about reducing or removing this tax.) To become a citizen, you need to become a resident. You can apply for residency after living in Grenada for two years. Grenada and the U.S. both recognize dual citizenship.
There is also a Citizen by Investment program where you can gain citizenship quickly by investing in an infrastructure project. Investment ranges start at US$200K and US$350K depending on the type of project you support. If buying into a hotel or resort development, you need to keep the property for three years before selling. 
Real estate is a buyer's market. There are a lot of properties on the market, many have been on the market for years, and they tend to be priced high. Generally, houses sell for 70% of the asking price. We were in the right place at the right time and purchased our home for 60% of the original asking price.
Real estate and land prices are lower here because Grenada is not as well known or trendy as some of the other Caribbean islands. It is less populated, has a smaller expat community, and offers less upscale shopping and glitz than many other islands. The infrastructure is on par with most of the Caribbean while maintaining a more laid back, old-Caribbean vibe that we love.
Making Money
You will need a work visa to work locally in Grenada, and you must have a specialized skill that won't take work away from the average Grenadian. For example, you can't be a server or bartender in a restaurant or hotel, but you could be a manager. Your prospective employer would submit the paperwork to the government for approval.
Most expats I know are retired and are creative in how they make extra money. One person sells fruits and vegetables that she grows on her property. My husband is a professional photographer, and I am a travel writer. This money does not pay our bills. It fills our desires and adds some financial cushion. We also have a guest cottage on our property that we are considering renting out on a long-term basis to a university student. We expect the rental to bring in about US$14K year. 
Tourism, agriculture, and construction drive Grenada's economy. Saint George's University accounts for 25% of the economy. The island needs more medical professionals in all areas. There are ongoing hotel and resort developments that will require management staff. 
Finding Your Dream Location
Moving abroad can present many challenges while offering many opportunities. Finding a place that you love with a culture that you can openly embrace will provide you many years of happiness and joy. Take the time to research your island and test your assumptions. Then, if it feels like a great fit, embark on your grand adventure!
We started coming to Grenada 30 years ago. We made multiple trips here and to other islands before we decided that Grenada was the place where we wanted to work and then retire. We have lived here permanently for three years, and I am still in the honeymoon phase. I love living here. We are deeply embedded in the local culture, have many Grenadian friends (and a Goddaughter) and feel completely at home in this island paradise.
With proper research, a curious mind and an open heart you will find your personal paradise. And if you are considering Grenada, contact me. I love to talk about Grenada and consider myself an unofficial ambassador for my beautiful island.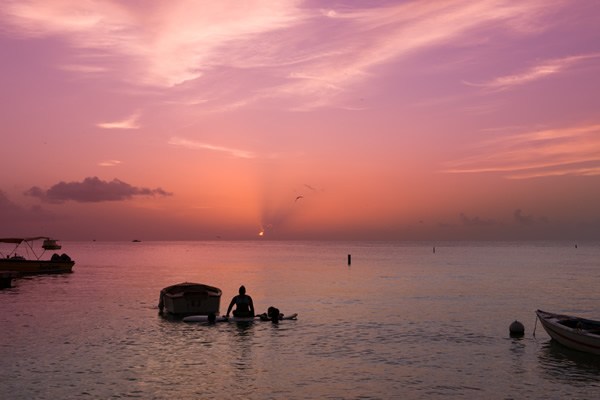 Sunset over Grand Anse beach, Grenada's spectacular two mile long white sand beach.
Useful Resources for Living in Grenada
Websites
Relevant Books
Helpful Blogs
My Contact Information
| | |
| --- | --- |
| | Candi Licence is a freelance Travel Writer and Blogger based in Grenada, West Indies. She has traveled to 21 countries/dependencies including extensive travel throughout the Caribbean. She left her corporate job in 2013 for full time travel for two years before settling down with her photographer husband in her favorite place in the world, Grenada, West Indies. Now, she writes about Grenada as well as the other fabulous places she travels. Candi is passionate about travel and culture and loves to go off the well-traveled path to discover the heart and soul of each location. |