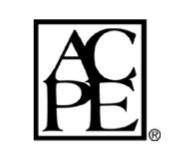 AACP – American Association of Colleges in Pharmacy
Their mission is to lead and partner with members in advancing pharmacy education, research, scholarship, practice, and service to improve societal health.
AAPS –  American Association of Pharmaceutical Scientists
It provides a dynamic international forum for the exchange of knowledge among scientists to enhance their contributions to health.
ACCP – American College of Clinical Pharmacy
A professional and scientific society that provides leadership, education, advocacy, and resources enabling clinical pharmacists to achieve excellence in practice and research.
ACPE – Accreditation Council for Pharmacy Education
The national agency for the accreditation of professional degree programs in pharmacy and providers of continuing pharmacy education.
AMCP – Academy of Managed Care Pharmacy
Their vision is managed care pharmacy improving health care for all, done through embracing their core values of credibility, transparency, collaboration, and innovation.
APhA –  American Pharmacists Association
The American Pharmacists Association is the national professional society of pharmacists in the United States and is dedicated to improving public health by assisting its members and enhancing the profession of pharmacy.  The Academy of Students of Pharmacy is the national professional society of pharmacy students and is an affiliate of the American Pharmaceutical Association [APhA.]  Membership is open to all pharmacy and pre-pharmacy students.
ASCP – American Society of Consultant Pharmacists
The American Society of Consultant Pharmacists is the international professional association that provides leadership, education, advocacy, and resources to advance the practice of senior care pharmacy.
ASHP – American Society of Health-System Pharmacists
A national professional association that represents pharmacists who practice in hospitals, health maintenance organizations, long-term care facilities, home care, and other components of health care systems.
AZO – Alpha Zeta Omega
Alpha Zeta Omega is a pharmaceutical fraternity composed of pharmacists and pharmacy students.  The objectives of the organization are: to promote the profession of pharmacy; to develop high standards of scholarship; to inculcate a spirit of fellowship amongst its members; to bring together a body of men and women who, by the diligent maintenance of ethical ideals and faithful service, have proven a credit to their chosen profession; to honor achievement in others; to commend all worthy deeds; to build within the fraternity a triangle composed of three supporting sides which are peace, friendship, and brotherly love.
BPS – Board of Pharmacy Specialties
A post-licensure certification agency for the pharmacy community.
CPA – Connecticut Pharmacists Association
A state professional association dedicated to serving Connecticut's pharmacists, pharmacy technicians, pharmacy students, and pharmacy school educators. The CPA has been promoting the profession of pharmacy since 1876. Their mission is to advance the practice and interests of pharmacy in the State of Connecticut.
CPNP –  College of Psychiatric and Neurologic Pharmacists 
A national organization with the mission statement: to promote excellence in pharmacy practice, education and research to optimize treatment outcomes of individuals affected by psychiatric and neurologic disorders. The student chapter works to promote the role of pharmacists in improving patient care.
CPPR – The Center for Pharmaceutical Processing Research
The Center for Pharmaceutical Processing Research (CPPR) is an industry/university cooperative research center (I/UCRC) focusing on critical parameters in pharmaceutical manufacturing processes. CPPR was founded in 1995, as one of over 80 such Centers established by the National Science Foundation (NSF), and the only one devoted to pharmaceutical processing research. The Center comprises four Universities – Purdue University, the University of Connecticut, the University of Puerto Rico, and the University of Minnesota.
HOPA – Hematology Oncology Pharmacist Association
A professional organization dedicated to supporting hematology/oncology pharmacy practitioners in optimizing cancer patient care.
ISOPP – International Society of Oncology Pharmacy Practitioners
Their goal is to promote and enhance oncology pharmacy practice worldwide in order to improve cancer patient care.
ISPOR – International Society for Pharmacoeconomics and Outcomes Research
A professional organization that promotes the science of pharmacoeconomics (health economics) and outcomes research (the scientific discipline that evaluates the effect of health care interventions on patient well-being including clinical, economic, and patient-centered outcomes) and facilitates the translation of this research into useful information for healthcare decision makers to increase the efficiency, effectiveness, and fairness of health care to improve health.

Kappa Psi Pharmaceutical Fraternity
The world's oldest and largest pharmacy fraternity.  Kappa Psi promotes the four cornerstones of fellowship, industry, sobriety, and high ideals.
LKS – Lambda Kappa Sigma
An international professional pharmacy fraternity. The mission of Lambda Kappa Sigma is to promote the profession of pharmacy among women and advance women within the profession by developing its members as individuals and leaders through the support of fellow members while encouraging a high standard of professional ethics and scholarship.
NABP – National Association of Boards of Pharmacy
An impartial professional organization that supports the state boards of pharmacy in creating uniform regulations to protect public health.
NACDS –  National Association of Chain Drug Stores
Serves the interest of both chain drug stores and their suppliers.
NCPA – National Community Pharmacists Association
Represents the pharmacist owners, managers, and employees of independent community pharmacies across the United States. The student chapter offers pharmacy students a wide array of opportunities to broaden and enrich their educational experience and gain valuable, real world skills.
NIPTE – The National Institute for Pharmaceutical Technology and Education
Non-profit organization dedicated to fundamental research and education in pharmaceutical development and manufacturing. Their goal is to increase science and engineering-based understanding.
NPhA – National Pharmaceutical Association
The premier organization representing the interests and needs of minority pharmacists in all practice settings.
PDA – Parenteral Drug Association 
Provides scientific, technical and regulatory information on pharmaceutical and biopharmaceutical manufacturing and quality worldwide.
Phi Delta Chi Professional Pharmacy Fraternity
An association formed to advance the science of pharmacy and allied interests, and to foster and promote a fraternal spirit among brothers.
PLS – Phi Lambda Sigma Society
The mission of the Phi Lambda Sigma Pharmacy Leadership Society is to foster and recognize leaders and to support leadership commitment.
PPAG – Pediatric Pharmacy Advocacy Group
The mission of PPAG is to spread awareness of safe and effective medication use in the pediatric population through the use of seminars and community service.
Rho Chi Society
The pharmacy academic honor society that: encourages and recognizes excellence in intellectual achievement; advocates critical inquiry in all aspects of pharmacy; encourages high standards of conduct and character; and fosters fellowship among its members: instills the desire to pursue intellectual excellence and critical inquiry; and to advance the profession.
SNPhA – Student National Pharmacy Association
An educational service association of students who are concerned about pharmacy and health care related issues, and the poor minority representation in pharmacy and other health-related professions.  The organization plans, organizes, coordinates and executes programs geared toward improving the health, educational, and social environment of the community.
SOT – Society of Toxicology
A professional organization committed to creating a safer and healthier world by advancing the science of toxicology.