Having quick access to your prescription medications makes taking care of your health easier. At University of Missouri Health Care, our pharmacies provide convenient services in locations throughout the area. We help you manage your health conditions and stick to the medicines your doctor ordered.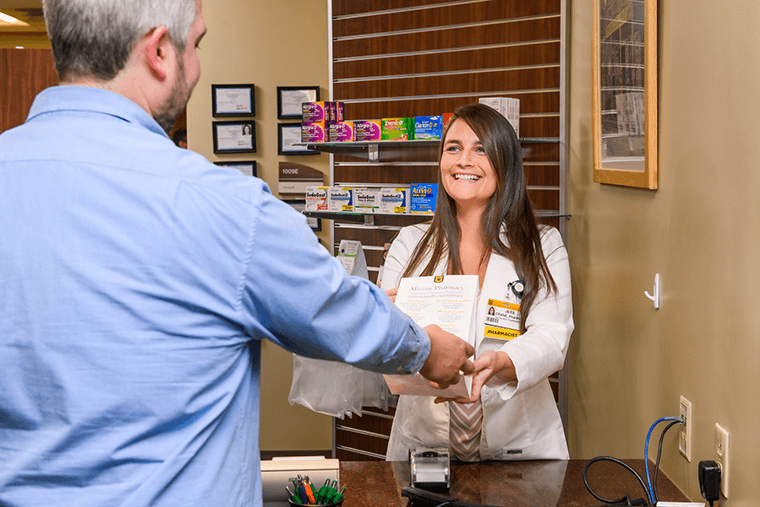 Our pharmacies provide comprehensive services, including:
Immunizations
Medical equipment and devices
Medical supplies
Over-the-the counter medications
Refill services
Convenient pharmacy services
Mizzou Pharmacies offer a variety of services designed to make your health care easier. Find a location.
Online prescription refill requests
Every Mizzou Pharmacy accepts next-day prescription refills online. You can request a prescription refill online using our secure web portal. Your prescription will be ready the next day.
MIZ Rx 2U – Bedside medication delivery service
If you are in the hospital, you may need medicines to take home with you. Using MIZ Rx 2U, our bedside delivery service, you can have the medicines you need delivered straight to your room. This convenient service helps you avoid stopping on the way home or waiting in line for your medications so you can go home to heal and rest.
Immunizations
Mizzou Pharmacy offers a full range of immunizations, including zoster, meningitis, TDap, pneumonia and school immunizations. You don't need an appointment or prescription to get your recommended vaccines. We accept most health insurance policies.
To receive an immunization at our pharmacies, you must be age 12 or older. Children under 18 need a parent or guardian present.
To make your immunization experience easy, please bring:
A completed Vaccine Administration Record (download here)
A form or payment
Your insurance card
You should plan to spend at least 30 minutes at the pharmacy so we can observe you after you receive your vaccine.
Not sure which immunizations are right for your child? Contact your Mizzou pharmacist for more information on recommended vaccines. Many schools, such as Columbia Public Schools, also offer vaccination requirement information online.
Pharmacy locations
For your convenience, we offer retail pharmacies at many MU Health Care hospitals and clinics throughout Columbia. Whether you are in the hospital or running errands around town, our pharmacies are always nearby and ready to serve you.
To learn more about services provided at specific Mizzou pharmacies, please select a pharmacy below:
Copyright © 2020 — Curators of the University of Missouri. All rights reserved. DMCA and other copyright information.
Equal Opportunity/Access/Affirmative Action/Pro Disabled & Veteran Employer.
For website information, contact the Office of Communications. Disclaimer