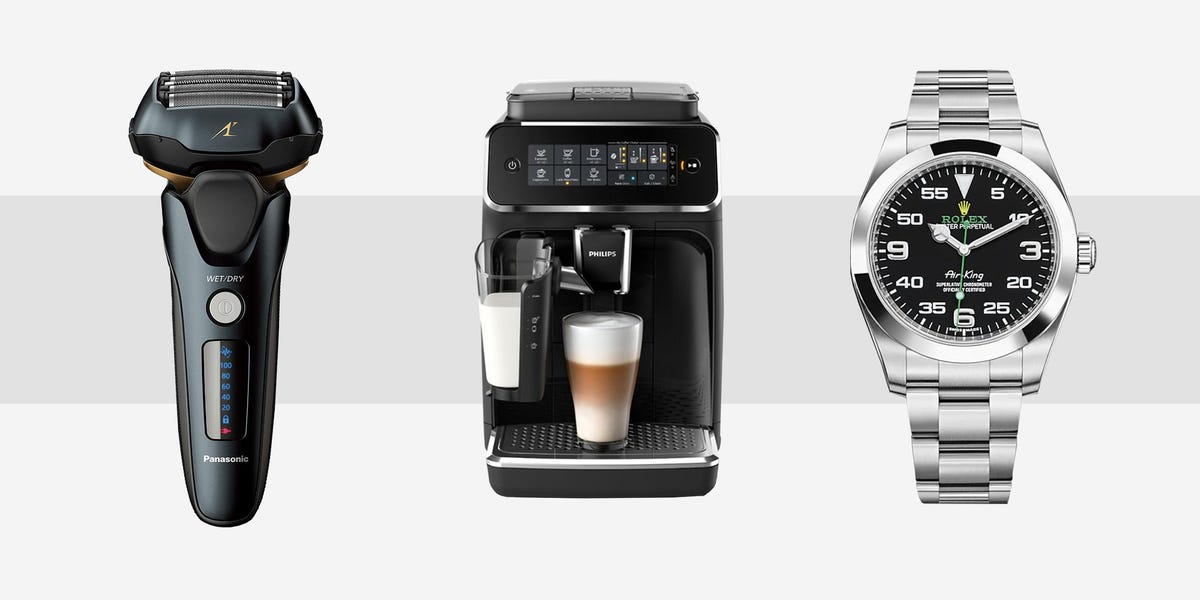 Classic Bedale Waxed Cotton Jacket
Barbour amazon.com
$360.00
Barbour's waxed cotton jackets are (royal-approved) all-weather classics. The waterproof Bedale style features a corduroy collar and tartan lining befitting the king in your life. 
The Bucket List: 1000 Adventures Big & Small
amazon.com$35.00
$28.99 (17% off)
Help him plan his next big adventure with this this collection of spectacular experiences perfect for the passionate traveler. 
Panasonic Arc5 Electric Razor
amazon.com
$149.99
For the guy who just doesn't have enough hours in the day, this wet-dry electric razor makes life easier with a 16-direction flexible head for a close shave and a pop-up trimmer for all-around grooming,  plus a charging system that cleans the shaving head while it powers up.
More: Grooming Gifts for Gentlemen
Golf Dri-FIT Victory Polo Shirt
Nike amazon.com
$61.00
Up his thread-game for when he hits the links with a moisture-wicking—and flattering—polo shirt. 
More: Golf Gifts for the Links Lover
Fully Automatic Espresso Machine
Philips Kitchen Appliances amazon.com$999.99
$799.99 (20% off)
Help complete his barista dreams with a machine that prepares fresh beans into the coffee drink of choice, whether that's a latte, cappuccino, macchiato, or a simple cafe Americano. 
More: Buzzy Gifts for Coffee Lovers
Personalized Airpod Case
AprilandKiwi etsy.com
$39.90
Add a luxe touch to his on-the-go listening with a Airpods case engraved with his initials. 
Mirror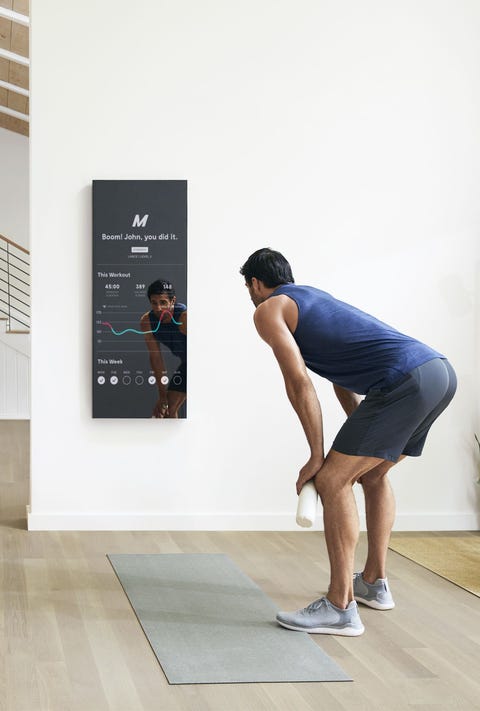 Mirror
mirror.co
$1,495.00
Fitness enthusiasts will love this smart mirror that streams fitness classes live and on-demand. Personal training sessions ($40) were recently added to the system's offerings, too.
Royale Sneaker
greats.com
$179.00
An elevated leather sneaker that can take his look from daytime casual to evening sleek is a necessity for any shoe wardrobe. 
The Iconics Collection
Courtesy of Material Kitchen
materialkitchen.com
$245.00
For the guy who is ready to get serious in the kitchen, this curated set includes everything he'll need to start his culinary journey. 
More: Cooking Gifts for the Foodie in Your Life
Chess Class with Former World Chess Champion Garry Kasparov
masterclass.com
G3
theragun.com
Help him ease that tension with Theragun's percusive therapy device, which gently soothes cramping and tightness in a just a few short minutes every day. 
Hot Sauce Making Kit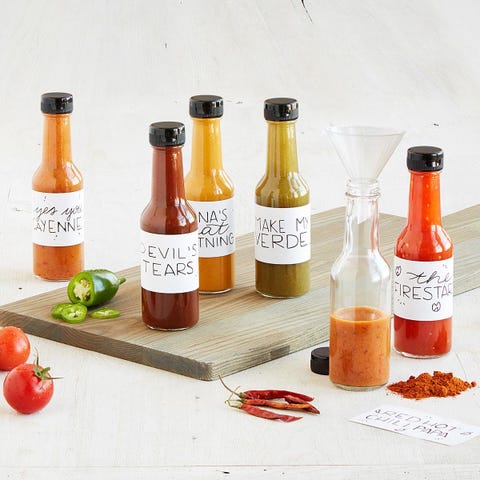 uncommongoods.com
$40.00
If he likes his food to have a little heat—or a lot— treat him to a kit that allows him to create his very own hot sauce for all of his flavor whims. 
The Carry on Cocktail Kit
Courtesy
W&P Design amazon.com
$24.00
Whether he's hitting the skies or just needs a cocktail on the go, the Carry-On Cocktail Kit offers all the non-alcoholic ingredients to craft a perfect Moscow Mule, Old Fashioned, or Gin & Tonic. Add a nip courtesy of the flight attendant or personal flask and he'll be good to go.
Eyeglasses Holder
uncommongoods.com
$18.00
This hand-carved friend made from sustainable sheesham wood will make sure he never loses track of his specs. 
Silver Pineapple Cufflinks
Courtesy
thetiebar.com
$20.00
Pineapples are an age-old symbol of hospitality, making these pineapple-shaped cufflinks the perfect thing to adorn the cuffs of a consummate host. 
The Impossible Collection of Wine
assouline.com
$995.00
This tome will make a statement with any wine lover. Hand-bound the book by sommelier Enrico Bernardo (named Best Sommelier of the World in 2004) covers the most important wines of the twentieth century. From 1928 Krug Champagne to the 1951 Penfolds Grange Bin 95 to the 1973 Stag's Leap Estate SLV, the wines included are exquisite enough to impress even the most well-read winos.
MLB Game-Used Baseball Beanie
uncommongoods.com
Calling all baseball fans. For a one of a kind way to show off his love of the game, snag him a beanie crafted from wool harvested from the interior of real baseballs used in a major league game by his favorite team. 
Nourishing Beard Grooming Oil
Kiehl's nordstrom.com
$30.00
Facial hair of any length or style can benefit from a dose of this lightweight, woodsy-scented oil which softens whiskers and adds shine but also moisturizes the skin underneath for maximum facial hair health. 
Super-Plush Robe
brooklinen.com
$98.00
Level up his relaxation game a Brooklinen bathrobe. Equal parts plush and absorbent, he'll find he feels incredibly luxurious even if he's just lounging around the house. 
Air-King
Courtesy of Rolex
rolex.com
$6,450.00
The self-winding mechanical movement of this antimagnetic steel watch—the only Rolex whose logo is printed in two different colors—is waterproof to 330 feet and also entirely developed and manufactured by Rolex.
More: Top Luxury Watches for Men
Monthly Cologne Subscription Box
scentbird.com
$44 for a 3 month subscription 
Not ready to commit? Give him the gift of options instead with this fragrance service that allows him to choose from hundreds of designer fragrances and receive a one-month supply of his favorites to test drive. 
More: The Best Cologne for Every Man In Your Life
16-Year-Old Scotch
Lagavulin drizly.com
$100.00
Town & Country Magazine Subscription
Hearst Magazines amazon.com
$12.00
What better way to keep the stylish guy in your life up to date than with a subscription to T&C? 
Mavic Mini
dji.com
$399.00
This DJI drone is one of the most portable on the market today. When folded it's small enough to carry in a jacket pocket, but powerful enough to offer 30 minutes of flight time capturing 2.7K videos and 12-megapixel still photos.
Trichotomic Mismatched Socks, Set of 7
uncommongoods.com
$35.00
He'll never have to match up his socks again with this set of stylish, intentionally mismatched geometric socks. 
Wine Simple: A Totally Approachable Guide from a World-Class Sommelier
amazon.com$32.50
$23.65 (27% off)
Aldo Sohm has been awarded the title of Best Sommelier in the World and overseen the wine program at one of New York's top-rated restaurants, Le Bernardin, but his debut book is remarkably approachable and casual. It's the perfect gift for someone who is interested in expanding his wine knowledge—or just wants to learn how to saber a bottle of champagne.
More: Gifts for Wine Lovers That Are More Creative Than a Bottle of Cabernet
Deodorant Subscription
helmm.com
$45.00
Doesn't the dapper guy in your life deserve better from his daily routine than swiping on deodorant out of a garish plastic tube? This subscription service not only provides him with customizable formulas and scents to suit his style, it also gives him an an elegant, refillable metal-and-leather tube he won't have to hide in his medicine cabinet. 
More: Gifts for the Well-Groomed Man
The Executive Chef
madeincookware.com
$799.00
If the man in your life is a home chef, there's no better gift than Made In Cookware's Executive Chef Kit. Complete with 10 pots and pans made of carbon steel and stainless steal, you'll be setting him up with everything necessary to get cooking like a pro. You'll quickly find that there's a reason Made In Cookware's collections have such extensive waitlists.
PhoneSoap Smartphone Sanitizer
uncommongoods.com
$80.00
Nowadays we're all more germ-conscious than ever, and phones are a notoriously dirty everyday essential. This UV sanitizer helps zap bacteria that live on your phone's surface to make your day-to-day a little cleaner. 
The Mattress
parachutehome.com
$1,899.00
The foundation of a well put together life starts wiat his peak with a supportive, eco-friendly, and comfy mattress that is designed to relieve pressure points and align the spine.  
Fontainbleau Seersucker Sportocat
Haspel haspel.com
$395.00
No stylish man's closet is complete without a classic seersucker sport coat for the warmer months, like this one from New Orleans's Haspel clothiers who have been making coveted seersucker suits for more than a century. 
Avión Extra Añejo Reserva 44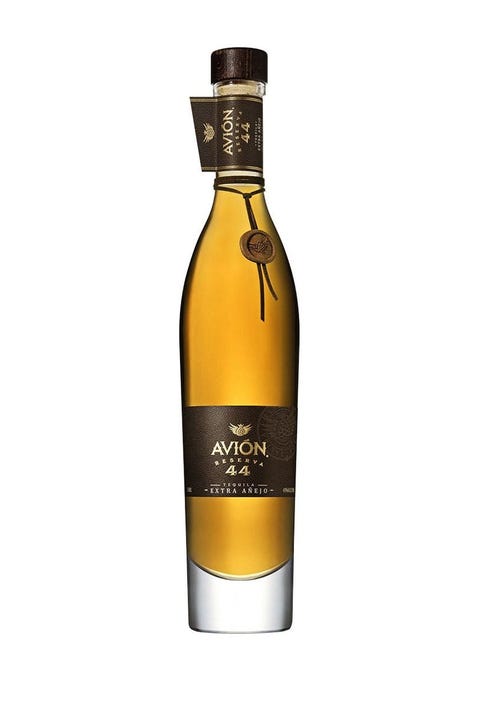 Avion reservebar.com
$169.00
His bar cart deserves an elevated tequila, and this one has been aged for 44 months in oak barrels for full flavor, a rich aroma, and a velvety finish. 
More: The Best Sipping Tequilas 
Growlight Frame Shelf
uncommongoods.com
$139.00
Give his green thumb a helping hand with this elegant frame that will make sure his houseplants get their daily dose of light. 
Rhye
teressafoglia.com
$1,100.00
Teressa Foglia's hats are made-to-order perfection for the sophisticated man who needs a signature accessory to complete his look. 
Breville Smart Waffle Maker
williams-sonoma.com
$199.95
Make breakfast on Saturday morning that much more fun with a waffle maker, complete with custom control dials. Can't you just smell that warm and toasty goodness already?
More: Gourmet Food Gifts
Move Smart Portable Wi-Fi and Bluetooth Speaker
Sonos bestbuy.com
$399.99
He loves the mobile, active lifestyle, but doesn't want to sacrifice tunes. Keep the vibes going with a smart wifi and blue-tooth speaker that is portable—so the party can move with him. 
Anova Precision Sous Vide Cooker with WiFi
williams-sonoma.com
$139.95
Up his game in the kitchen with a high-tech, wifi connected immersion circulator for silky, perfectly cooked results every time. Think of the culinary experimentation that lies ahead!  
More: Cooking Gifts for the Foodie in Your Life
Apple Watch Series 5
amazon.com
$429.00
Give them a functional gift that they will use every day. Sure, the Apple Watch can track just about anything, from steps and time spent standing to specific workouts like swimming, hiking, and rowing, but you can also swap out the bands for endless stylish moments. 
Good Face Day Kit
maapilim.com
$75.00
Help him start a new skincare routine with the help of Maapilim's good face day subscription skincare kit with a cleanser, moisturizer, and eye cream.
Laguiole En Aubrac Champagne Saber
williams-sonoma.com
$329.95
Kick the celebration into high gear with a champagne saber. Just be sure to have your slow-motion function set on your camera!
More: Gifts for Champagne Lovers
Master & Dynamic MW65 Active Noise-Cancelling Wireless Headphones
View this post on Instagram

A post shared by Master & Dynamic (@masterdynamic) on May 10, 2020 at 11:27am PDT
$499
Not only does Master & Dynamic set the standard for aesthetics when it comes to headphones, but their latest noise-cancelling product is super light, with two sound-dampening modes depending on the environment. Bonus: there are also dual microphones to filter out external noise so that phone calls have clarity, and they have up to 24 hours of battery life.
Le Labo Shaving Cream
$34.00
Lachmun Sun Sunglasses
Oliver Peoples Eyewear eastdane.com
$384.00
Kick his aesthetic up a notch with a pair of classic sun-protecting frames.
LARQ Waterbottle
$118.00
He can sip his way to a healthier lifestyle with a sleek water bottle complete with self-cleaning UV technology
This content is created and maintained by a third party, and imported onto this page to help users provide their email addresses. You may be able to find more information about this and similar content at piano.io