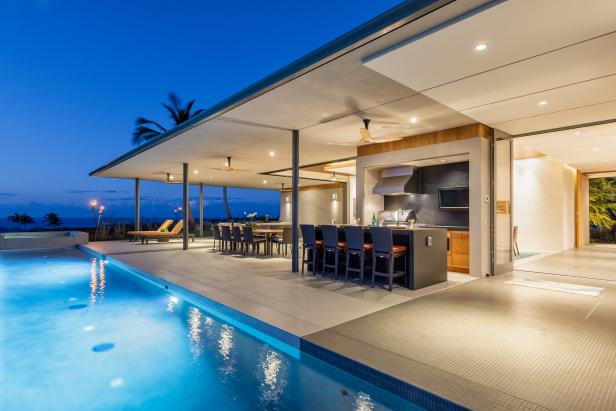 12 Gorgeous Outdoor Kitchens | HGTV's Decorating & Design Blog | HGTV
Dreamy and downright drool-worthy, these outdoor kitchens are all the inspiration you need for a backyard reno.
When designing an outdoor space, personalization is key. This is especially true for outdoor kitchens. Design with your preferences and lifestyle in mind to get the most out of your space. If you'd rather just order pizza, don't install an outdoor pizza oven. If you're a grill-master, opt for the tricked-out grilling station. You'll be much more likely to get outside and use your space if it speaks to your culinary tendencies.
I've rounded up some of our best outdoor kitchen designs for inspiration. Take a look, and see which ideas work for you.
Fire Pit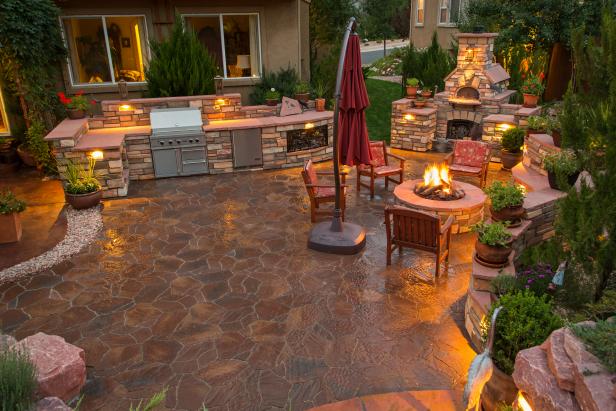 Complete Outdoor Entertaining Space Backyard Oasis
This beautiful backyard oasis has it all: pizza oven, fire pit, wine cooler and BBQ Grill. The stone ties all the elements in the space together as well as brings warmth and color.

From: Sunflower Landscapes
Photo by: Neil Podoll Photography
Neil Podoll Photography
A fire pit adds a cozy element to an outdoor kitchen, making the space a destination as daylight dwindles.
Outdoor Fireplace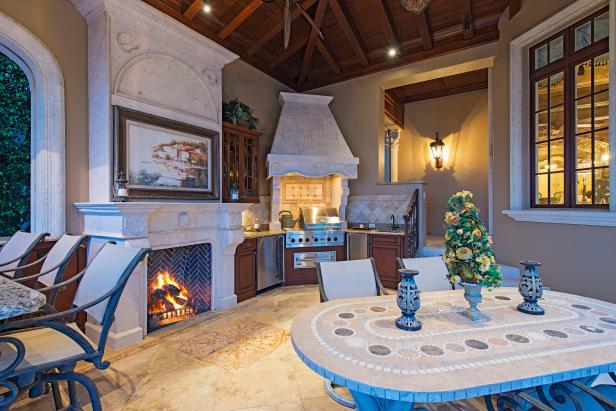 Outdoor Kitchen: Bayfront Mediterranean Villa in Naples, Fla.
This cozy and inviting outdoor kitchen features an integrated grill, small refrigerator, cabinet space and beautiful stone fireplace surround. Mediterranean-style furnishings offer ample seating for casual, outdoor dining.

From: John R. Wood Properties
Photo by: John R. Wood Properties, a member of Luxury Portfolio International
John R. Wood Properties, a member of Luxury Portfolio International
Similar to a fire pit, a fireplace lends a sense of comfort to an outdoor kitchen. Consider adding a fireplace if you're aiming to bring the indoors out.
Pizza Oven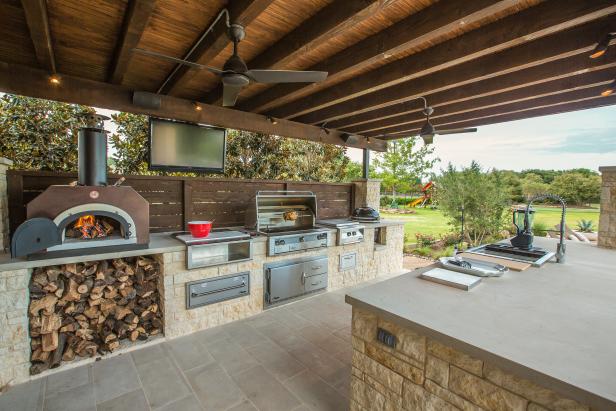 Outdoor Kitchen With Pizza Oven
This fully loaded gourmet outdoor kitchen is complete with a pizza oven, serving station, warming drawer, grill, refrigerator, side burner, smoker and sink. Your guest can watch the flat screen TV while you whip up a delicious BBQ.

From: Aquaterra
Photo by: Daniel Driensky
Daniel Driensky
If you enjoy making homemade pizzas, this one's for you. If you're totally down with delivery (no judgment here!), skip this one.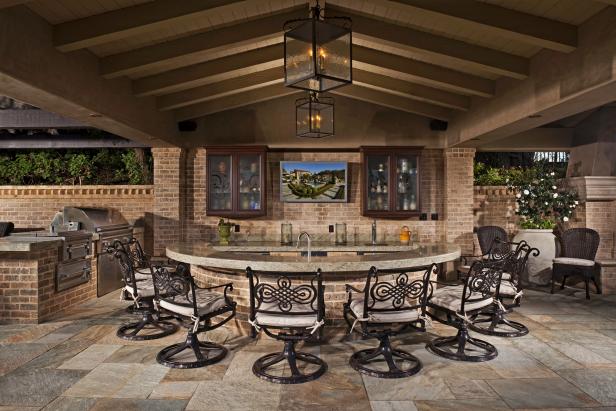 Luxurious Outdoor Bar & Grilling Station
Luxury at its finest, this outdoor bar and grilling station serves as the perfect place to entertain with a roof to accommodate the weather.

From: Drew Sivgals
Photo by: David Guettler Photography
David Guettler Photography
Do you plan on crafting more cocktails than meals? Make the bar the focus of your outdoor kitchen.
Tricked-Out Grilling Station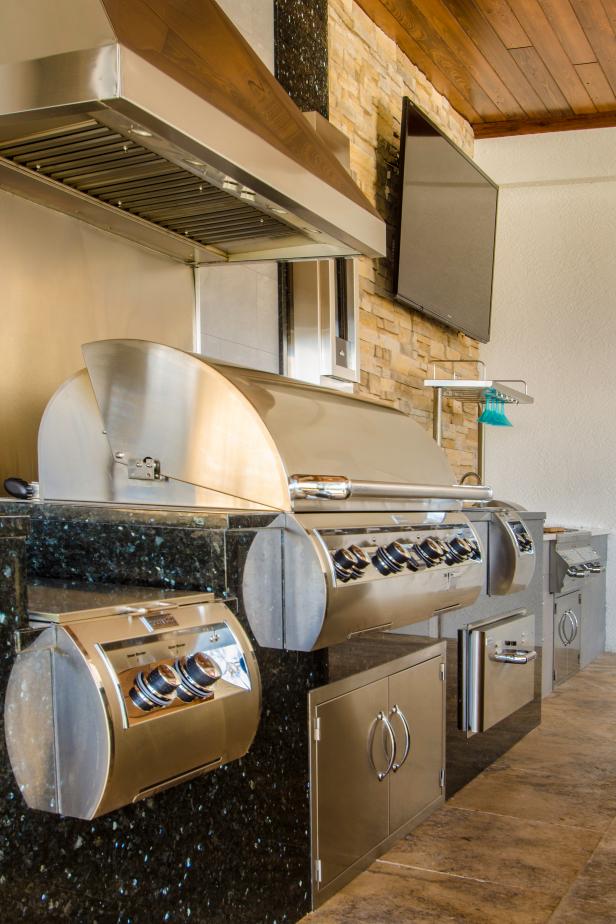 Built-In Stainless Steel Grill With Vent Hood
A large stainless steel grill with a vent hood creates the ultimate spot for barbecuing in this outdoor kitchen. A nearby TV keeps guests entertained while the grill master gets to work.
From: Lindross Remodeling
Photo by: LINDROSS REMODELING
LINDROSS REMODELING
Attention, grill-masters! This is your time to shine. The bells and whistles available for grilling stations are endless. Again, choose based on your tendencies and preferences.
Bar + Grill Combo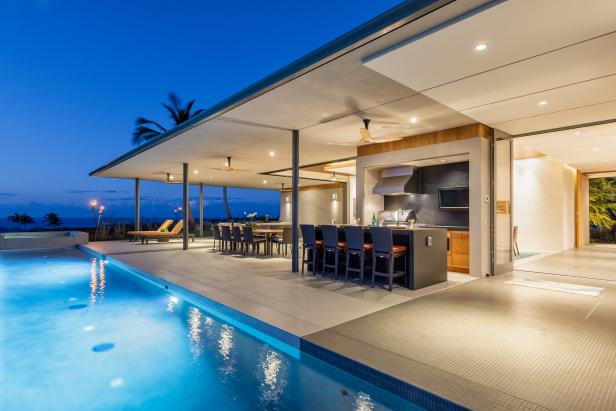 Contemporary Outdoor Kitchen And Swimming Pool
A grilling station alcove with a bar sits poolside underneath a covered patio for outdoor entertaining and cooking. The swimming pool mimics the sleek, linear architecture with its minimal design.

From: Hawaii Life Real Estate Brokers
Photo by: Hawaii Life Real Estate Brokers, a member of Luxury Portfolio International
Hawaii Life Real Estate Brokers, a member of Luxury Portfolio International
The bar and grill combination is perfect for entertaining. Barstool seating creates a casual hangout spot for family and friends.
Pool House + Kitchen Combo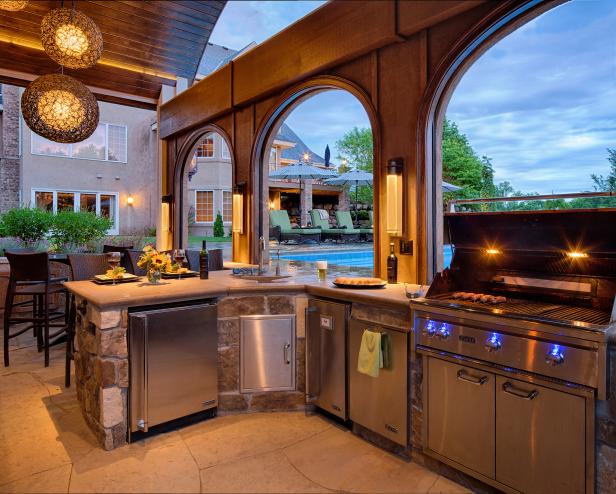 Poolhouse with Outdoor Kitchen
The poolhouse offers luxuriously comfy features, including a high-end kitchen with a martini sink. Storm shutter doors tucked inside the arches drop down with a push of a button. The pool house was built only 2.5' from the waters edge creating an unusual situation with a venial pool. To make sure the pool wall was properly supported, a newly constructed block wall supports that edge. The three main arches facing the pool hide screens and shutters to block the sun or wind.

From: Mom's Design Build
Photo by: Steve Silverman Imaging
Steve Silverman Imaging
Also ideal for entertaining, the pool house and outdoor kitchen combination creates a space where adults and kids can simultaneously gather.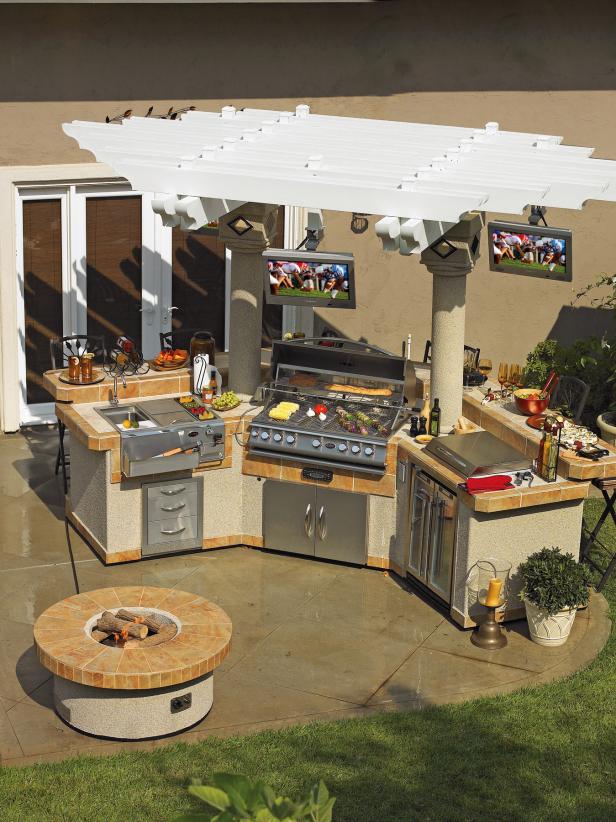 CI-Cal-Flame_patio-kitchen_s3x4
Sports fanatics, meet top-of-the-line tailgating. Your friends will be begging to come over for the big game.
The View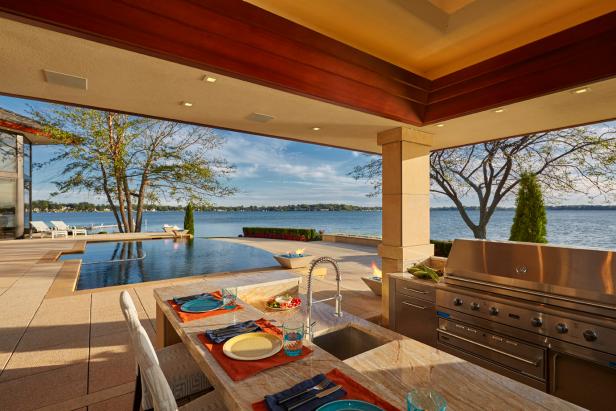 Modern Outdoor Kitchen With Stainless Steel Grill and Marble Bar Dining
A clay roof with cedar fascia cover this stylish outdoor kitchen. A large stainless steel grill is fitted into the countertop with a beautiful view of the lake. A raised marble countertop section separates the eating space from the sink and prep level. Colorful place settings are perfect for adding color and a warm-weather feel to the design.

From: DesRosiers Architects
Photo by: James Haefner
James Haefner
If your locale's this lovely, let it do the talking. Design your outdoor kitchen to accentuate the view.
Pergola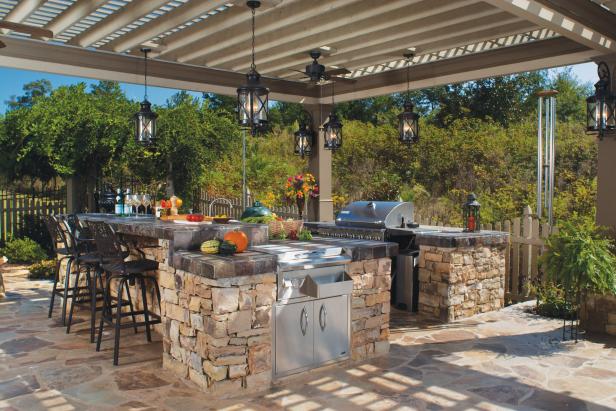 Stone Outdoor Kitchen
In this galley-style outdoor kitchen, guests can chat while the hosts prepare a meal with the built-in appliances underneath the shelter of a pergola. Use of stone and rock give the space, by Atlanta Deck and Fence, a rustic yet traditional look.
Photo by: Atlanta Deck and Fence
Atlanta Deck and Fence
Create shade with a beautiful pergola. A pergola also provides somewhere to mount light fixtures and fans.
Vent Hood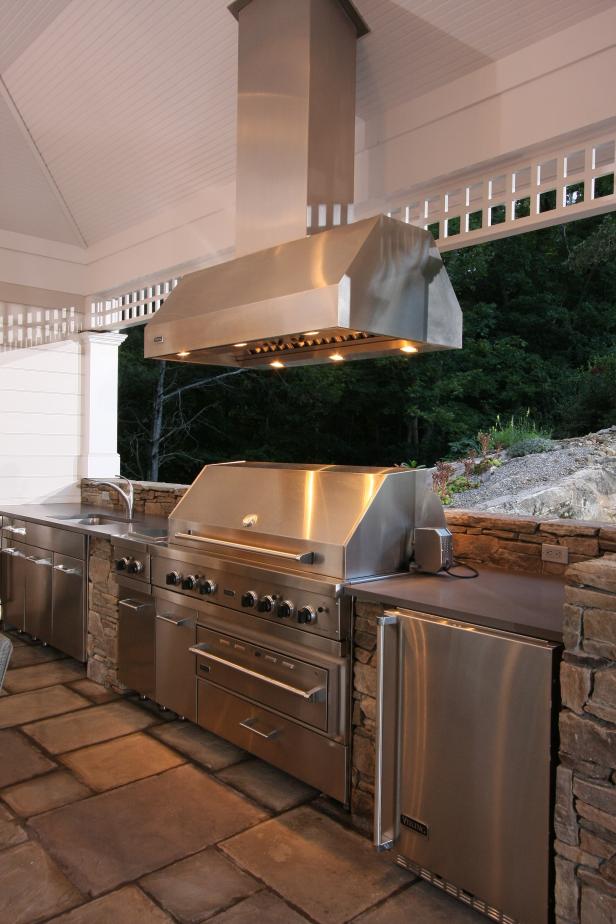 Traditional Cabana with Outdoor Kitchen
This fully equipped outdoor kitchen is a cook's dream, making food prep easy and keeping the hosts connected to their guests. Cabinets supported by stacked fieldstone offer ample storage space, and an industrial-sized hood vents smoke and odors through the roof, not into the vaulted ceiling.

From: Daniel Contelmo
Photo by: Roger William Photography
Roger William Photography
If your outdoor kitchen has a partial enclosure or roofed covering, it's a good idea to install a hood to vent smoke and odors.
Dining Area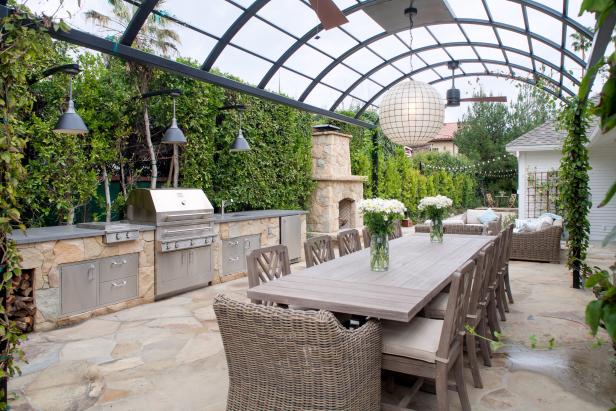 Neutral Outdoor Space with Stunning Kitchen and Dining Room
This spectacular backyard boasts a state-of-the-art outdoor kitchen with stone counters and a long, neutral dining table that makes it ideal for entertaining. Greenery surrounds the perimeter of the space and ivy hangs from a contemporary metal pergola that supports wood ceiling fans and a paper lantern, which offers a soft glow above the dining table.

From: Jeff Troyer Associates
Photo by: JWT Associates
JWT Associates
Carve out a dining space within your outdoor kitchen to make dining alfresco a breeze.
Skip the reno, and get straight to the party.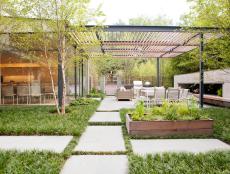 A gourmet grill, cozy fireplace and seating for a crowd: these luxury outdoor kitchens and dining rooms make it hard to turn in for the night.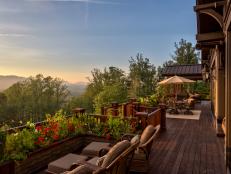 After laying eyes on this jaw-dropping outdoor space, you'll know exactly why HGTV fans crowned it the winner of this year's Fresh Faces of Design Outdoor Living Spaces category. It just doesn't get any better than this.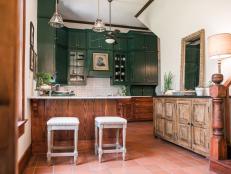 Two hues are better than one.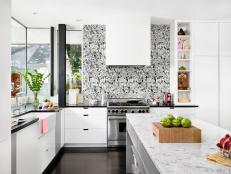 You'll be in awe after seeing how these kitchen backsplashes stole the show.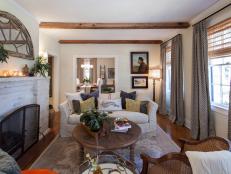 Home Town's Erin and Ben transform a plain, box of a house into a charming home with a European soul.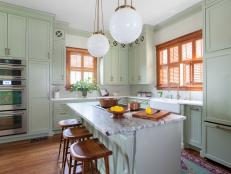 Believe it or not, there are other options out there.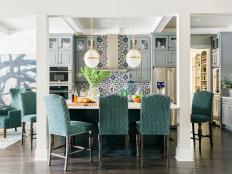 The pictures are out, and the reviews are in. What do you think of this super smart kitchen?
Styling isn't just for coffee tables.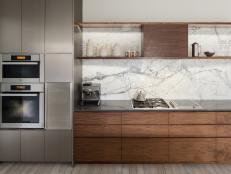 Eye candy abounds!
To sign up, please enable JavaScript.
7am | 6c
7:30am | 6:30c
8am | 7c
8:30am | 7:30c
9am | 8c
9:30am | 8:30c
10am | 9c
10:30am | 9:30c
11am | 10c
11:30am | 10:30c
12pm | 11c
1pm | 12c
2pm | 1c
3pm | 2c
4pm | 3c
5pm | 4c
6pm | 5c
7pm | 6c
On TonightOn Tonight
8pm | 7c
9pm | 8c
10pm | 9c
11pm | 10c
12am | 11c
1am | 12c
2am | 1c
3am | 2c