Port St. Maarten: Home Find us on Facebook

Ship Schedule
St. MAARTEN – A WORLD CLASS CRUISE DESTINATION

The Simpson Bay Bridge will open twice a day as of Friday, March 27, 2020.The Simpson Bay Lagoon Authority after reviewing boat traffic and under the current national emergency related to the coronavirus COVID-19, the Lagoon Authority decided to temporarily reduce the opening times to two per day.
The bridge will open at 9.00AM for inbound and outbound traffic, and again at 2.00PM inbound/outbound.
The Causeway Bridge opening will be synchronized based on the Simpson Bay Bridge openings. This will be coordinated with mariners by calling the VHF-12 channel.
WHAT WE DO
A MILESTONE FOR ST. MAARTEN
ST. MAARTEN
THE LEADING PORT
IN THE CARIBBEAN
ACCOMODATING FACILITIES
One single pier (545 m) accommodating 4 ships simultaneously was one pier too few. Opened in 2009, the Harbour Group of Companies upgraded the port by building a second pier. St. Maarten is now one of the few ports able to accommodate the world's largest cruise ships – the Genesis-class vessels.
Weighing over 220,000 gross tons each, and having a capacity of more than 6,000 passengers and crew, two such vessels can be accommodated on Pier 2 (445 m). Additionally, Pier 2 has two booths for passenger screening which expedites disembarkation. Tons of experience. Tons of efficiency. Tons of opportunity.
FIRST IMPRESSIONS 
Immediately upon coming ashore, passengers are welcomed to the Harbour Point Village to the sound of steel pans. That tropical feeling on the "Friendly Island" begins! Built in Philipsburg's charming old architectural style, the Village contains duty-free outlets, souvenir shops and market stalls as well as bars and a restaurant.
Here most of the tour and excursion pick up and drop off points are found as well as bus tour stands and the cab stand. Friendly harbour staff are on hand to assist visitors and an information center is located in the main building. We are known, after all, as the "Friendly Island". First impressions last.
We're ready to keep on cruisin'!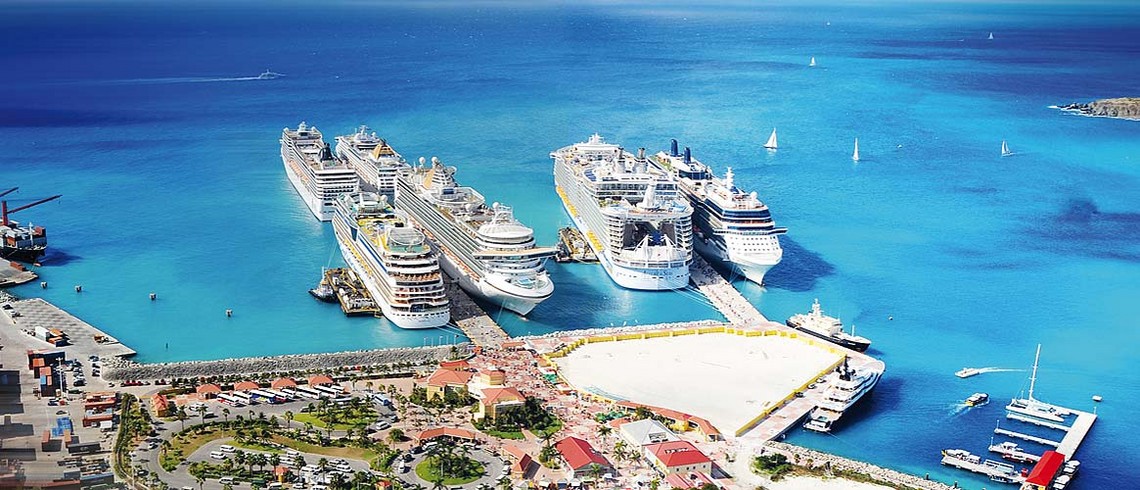 SWIFT PASSENGER DISTRIBUTION UPON ARRIVAL
Diverse transportation options into Philipsburg or elsewhere from the piers is available upon command. Rapid distribution is of utmost importance to facilitate a positive first impression of St. Maarten. Those wishing to stretch their legs and go on foot need a mere 15 minutes to reach the island's capital city. Cabs, water taxis and tour buses stand ready to whisk the less adventurous or less mobile away.
The Captain Hodge Wharf, Walter Williams Jetty and Bobby's Marina are three convenient water taxi stops on the Philipsburg waterfront and $6 one-day tickets for unlimited rides can be purchased from one of two private companies. Additionally 100 cabs await cruise arrivals at the terminal for fares to Philipsburg or elsewhere. Convenience. Comfort. Minimized congestion. Take a bus. Take a water taxi. Take a cab. Take a walk. Convenience. Comfort. Congestion, so long!
We're ready to keep on cruisin'!
St. Maarten is a successful cruise destination because we've listened to the cruise lines and we understand the business. We understand the need to be able to offer a quality land experience to passengers, and the necessity of shore and land excursion revenue as well as sustainability concerns.
Our port facilities have been the catalyst for the improvement and development of different areas of the island. Our transportation network was improved by the completion of the Simpson Bay Lagoon Causeway in December 2013. The construction of this causeway eases traffic congestion for tours as well as for individual beach-bound passengers. We are committed to balancing our role as an economic driver and are dedicated to lessening the impact of our operations on the environment.
Our island is rich in history and has a diverse cultural background. Join us in our prosperous future. The friendly island awaits you.
OUR VISION – Port St. Maarten will lead in the Caribbean through quality service and operational excellence while providing a safe and secure environment for our customers and the people of St. Maarten with the highest standards of integrity.
OUR MISSION – We will provide quality integrated services to our customers through continuous development & innovations in all areas of our business while maintaining the leadership role in the economic development of Sint Maarten.
st. maarten. Philipsburg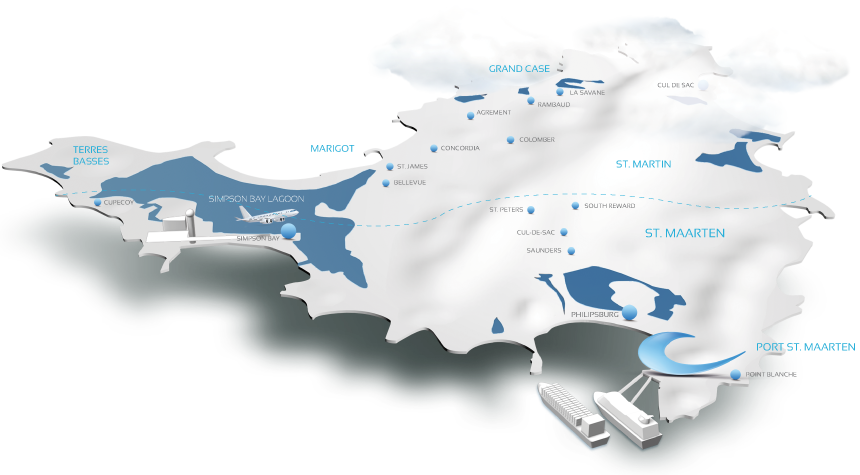 Strictly speaking, St. Maarten is not an island by itself, but an island half shared in two! We share the other half with the French Collectivity of St. Martin, which is part and parcel of France. St. Maarten/St. Martin is the smallest island in the world to have dual nationality. Our borders are no border. Remarkably, over 130 nationalities are represented. We are proud of our island and proud of our islanders!
St. Maarten consists of the southern half of the island with Philipsburg, it's capital, at the head of Great Bay in the southeast and Simpson Bay Lagoon to the west. 10.10.10 was a magical day for St. Maarten. We became a country within the Kingdom of the Netherlands. The Kingdom of the Netherlands now comprises of four countries, the Netherlands, St. Maarten, Curacao and Aruba. St. Maarten is one of the world's leading cruise destinations and is soon to be a leading Caribbean port of choice for regional transshipment. St. Maarten, rich in diversity, history and opportunity!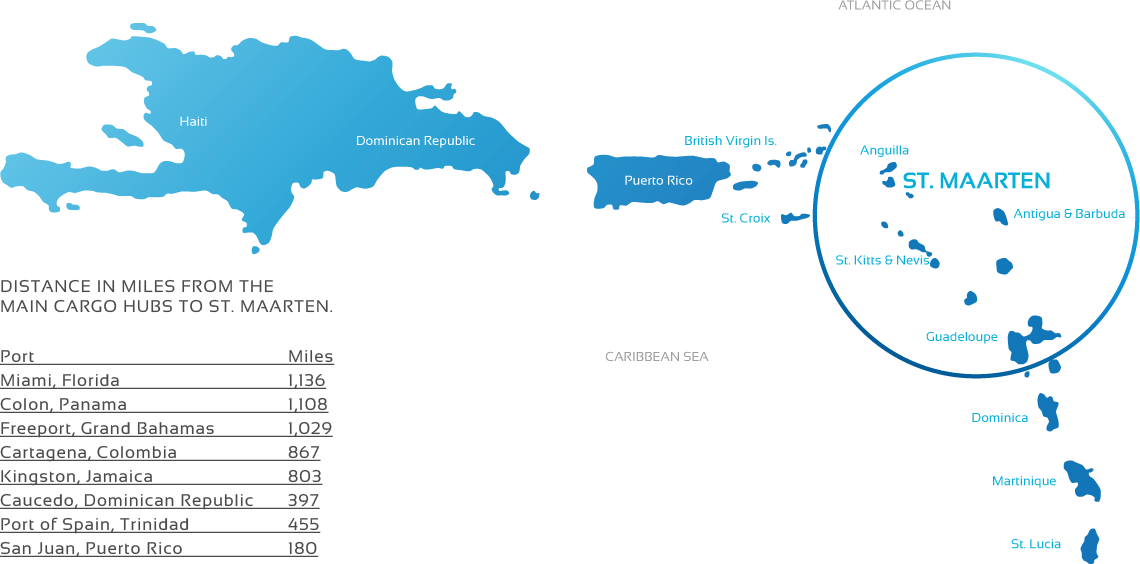 LIVE IT. HAVE IT. BE IT.
WHITE SAND
BEACHES
87% of St. Maarten's revenues come from the tourism industry. The cruise industry is the major contributor. The extraordinary success of our tourism industry attests not only to St. Maarten's spectacular island scenery but to dedicated teamwork of Port St. Maarten and the St. Maarten Tourist Bureau in actively marketing and developing its utmost potential.
We are one of the most successful tourist destinations in the Caribbean. There is a reason why we are known as "The Friendly Island"! With our long history of warm hospitality and delightful cultural diversity, we always do our best to ensure that short-stay cruise passengers and long-stay tourists reap the most. The maximum. Our well-developed infrastructure and facilities ensure that the math works: maximum hospitality + playful possibilities = ultimate experience!
PLAYFUL POSSIBILITIES ON LAND AND ON WATER
Whether on land or water, the choices are endless for cruise passengers to spend their time on or around our delightful island! Our world is their oyster! Jeep safaris, bus tours, hikes, guided Harley-Davidson tours, quad bike excursions, casinos, nightlife, island restaurants, zip-lining, butterfly and bird watching, clubs, nature reserves, health spas, plantation visits, dancing, musical concerts, duty-free, Maho Beach plane-spotting, you name it we have it.Snorkeling, deep sea fishing, jet-skiing, yachting, catamaran circumnavigations, kayaking, swimming, sunbathing, world-class beaches, yacht charters, boat tours, you name it we have it.
We work closely with the cruise and yachting sectors. We share one vision.
We seek to maximize the quality offered to tourism customers and, at the same time, to maximize the quality of life of our community, St. Maarten. Enhancing the visitor experience means being innovative and inventive. Upgrading of existing overnight facilities to cater to the ever-expanding number of staying guests, we are always a port on the move. Adding boutique hotels. A new waterpark. Spa facilities.
We've prioritized for our future. Motivating cruise passengers to return to our island for longer stays. Again and again and again.
The completion of the Simpson Bay Lagoon Causeway at the end of 2013 linking the airport area with Cole Bay improved accessibility to and from SXM Airport by providing an alternative route to the existing Simpson Bay Bridge.
CAPITALIZING ON FANTASTIC PHILIPSBURG.
A mere 15-minute walk from the terminal or a 5-minute ride by water taxi, our "city" awaits the curious cruise passenger. Whether duty-free shopping, sightseeing or eating tops the "to do" list. Founded in 1763 by John Philips, a Scottish captain in the Dutch navy, Philipsburg soon became a busy commercial center. The Great Salt Pond, actively mined up until 1949 was a lucrative income source for the island. Fort Amsterdam and Fort Willem built by the Dutch and British respectively in 1631 and 1801 are well-known landmarks which give evidence to St. Maarten's former military importance.
Two main streets, Front Street and Back Street run the length of Philipsburg with interconnecting alleys: a shopper's paradise – duty-free! Philipsburg also offers interesting attractions and historical sights such as the Courthouse, the St. Maarten Museum, Old Street and the Guavaberry Emporium. Running nearly the length of the waterfront, our relatively new 50 ft-wide boardwalk is one of Philipsburg's biggest passenger attractions. It is packed with hotels, restaurants and lively bars and, within "a stone's throw" of the cruise terminal, it is an ideal place to relax, stroll and take in the local atmosphere. Fantastic Philipsburg has something for everyone!
The PORT TO REMEMBER.
port st. MAARTEN
YOUR NAME(REQUIRED)
YOUR EMAIL(REQUIRED)
SUBJECT
YOUR MESSAGE
Primary Contact:
Port St. Maarten 
PHONE: +1 (721) 542-8503, 542-8504
FAX: +1 (721) 542-8506
Supervisory Board Members:
Shaira Bommel
Charles Thomas
Emilio Kalmera
Port St. Maarten
A.C. Wathey Cruise & Cargo Facilities
J. Yrausquin Boulevard
P.O. Box 5185
Harbour Village Suite #13A
Point Blanche 
St. Maarten
PHONE: (721) 542-8504, 542-8503
FAX: (721) 542-8506
comments@portstmaarten.sx 
Supervisory Board Members:
Shaira Bommel
Charles Thomas
Emilio Kalmera