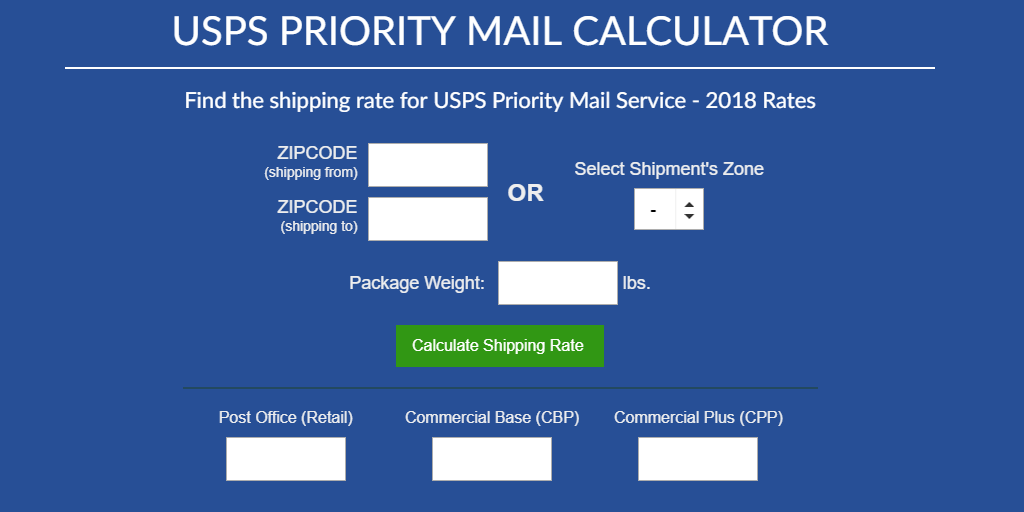 USPS Priority Mail Calculator 2020 | ShippingEasy
About USPS Priority Mail Service
USPS Priority Mail is the United States Postal Service's main service for shipping packages and parcels. There are many variations of Priority Mail, including Priority Mail Flat Rate, Priority Mail Regional Rate, Priority Mail Express, international Priority Mail services, and more. This calculator will provide rates for standard Priority Mail packages within the United States.
Packaging for Priority Mail: You may use your own packaging for USPS Priority Mail, or use boxes provided by the Postal Service for free either ordered online or at your local retail post office. If you decide to use your own packaging, the combined length and girth (thickest part of the package) is no more than a total of 108″.
Benefits of using Priority Mail
• Priority Mail and other USPS services qualify for free package pickup at your home and office.
• USPS Tracking is included on every Priority Mail package.
• Delivery is 1-3 days, usually arriving sooner if the package doesn't have to travel as far.
• Includes insurance with most packages (restrictions apply)
• No surcharges for fuel or residential, rural, or Saturday delivery.
• Flat Rate, Regional Rate, and Prepaid Pricing are all available.
CALL US
1.855.202.2275
Live Chat
Speak to a human
Copyright © 2013-2020 ShippingEasy