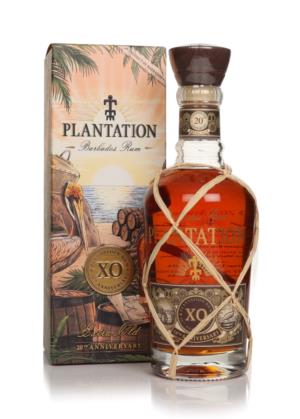 Liquid Gold
Had this at my local pub (put it there myself)
One of the best rums I've ever tasted. So smooth and amazing.
The flavours just melt on your tongue and the colour is alluring, hence liquid Gold.
The Bajans really know how to make a rum.
Worth every penny.
Almost Orgasmic, one of the best rums ive found to date.
One of the best rums I have found to date. I tried this duty-free offering out of curiosity, only to replace Diplomatico and Kraken as my favorites. It's way to easy to drink, such a balanced with multiple flavor layers, one that I enjoyed from the first sip to savor it's after taste. Almost orgasmic.
Well impressed and arrived 2 days early
This rum is everything it lives up to be, by far the best I've had. Excellent value for money I'd recommend it to anyone looking for neat sipping sit back chill out style rum. FANTASTIC.
Premium taste and presentation.
Got this as my first Plantation bottle and it's so good. As tastes go, this is one of the best I've tasted. The bottle is quite something too.
buy it
worth the money
Beautiful and one of the best sipping rum's you can get for the price. I run a Rum Samplers Club where we rate rums and this one gets on average a 8.5 out of 10. It is very smooth with a slight sweet taste, but goes well with Cuban cigar.
A1 rum
A must have in your collection
Smooth and can get, gives you strong coconut back end and too easy to drink.
Nice and fruity but did they need to add almost 30g/L of sugar?
nice and fruity but did they need to add almost 30g/L of sugar?
4/5 Would be 4.5 stars without the added syrup.
amazing
Bought the 3ml Bottle tester and it was so good I'm Buying a full bottle!
You're paying for a fancy bottle… Not as great as everyone is saying…
Nose is quite nice- although immedietly the sharpness of a young spirit, masked by a load of after-barrel sugar additives afterwards. This carries over to the taste- very spikey, rough on the front- then it masks itself with its added sugar, and overly sweet finish that lingers.
Overall it isnt a bad taste or nose, however the fact its being covered up by additives is not a good sign, and definately not worth its price here- youre paying for a fancy bottle.
Overly sweet, cloying. Bad rum
Overly sweet, cloying. Bad rum
Carribean aromatics
Dont confound sweet tasting with sweet sugar cane aromatics. After all, it is distilled sugar cane, and that is exactly the aromaticexpression of this exotic Rhum. No it is not Rhum Agricole, it never pretends it is. A beautiful explosion of carribean aromatis it is, one of the best Rhums i've ever had.
Dark, smooth, luscious, delicious. 5/5
Of all the rums I've tried I love this the best. Very nice on its own over ice or with a mixer. Expensive but worth it. Now on my 3rd bottle.
You only pay for best taste
Best relaxing drink you have ever tasted why not try it you will not be disappointed good health to everyone
Gorgeous rum
By far the smoothest, tastiest rum I've ever had. Without a doubt my absolute favourite.
Amazing is the only word i can use to describe this rum
The best rum i have ever tasted – and i have tasted a great number of rum's! Smooth and delicate, with perfectly balanced taste of vanilla, cocoa, honey and great fruits. The aftertaste is stunning, and i can only recommand everyone to try this amazing rum.
Complete
Remarkably smooth. Full of flavour and depth. My go to rum any day of the week.
Best!
Remarkably smooth and coconut, vanilla, caramel, and chocolate notes. It's absolutely amazing!
Dreadful
An insult to Barbadian rum. All the comments remarking how "smooth" it is. 24g/L of added sugar-syrup. Tastes like a cocktail with added sugar one person noted – yeah pretty much what it is. Sacharrin heavy, thin mouthfeel notes of cheap young alcohol beyond the sweetness. Cloying coconut flavour. Terrible, terrible rum.
Smooth tasting
Smooth good tasting rum. Not my all time favourite but it's a pleasure on the senses. A bombardment of flavours, slightly heavy on the caramel and coconut. Worth a chance.
Too expensive for this quality
Beginning of the taste is good but then harsh alcohol and strong bitter taste.. yew.. Eldorado 15 and Ron Zacapa 23 was much smoother. Its ok to mix it in cocktail.
Sander
Amazing rum!!!
Best rum under $100
This rum is so smooth, you might think you are drinking a cocktail with a bit of sugar added. Unbelievably good. I have tried about 50 different rums and don't buy rum that costs more than $100 a liter and this is the #1 best I have ever tried. $400 and $1000 rums probably better, but why bother ?
Best rum I've had
Best rum I've had. Taste great neat or add a dash of mineral water to release the hidden notes. Worth the price and highly recommended.
Too sweet for my taste. But high quality.
This is a smooth and very sweet rum. There is hardly any dry notes.
It is basically the opposite of Agricole types.
So if you are looking for a more balanced rum. This is not the one.
The best Rum Ever
Outstanding best rum ever
It's awesome, 😉
I'm not a rum drinker, But I love this! It's awesome!
Jimbob. 😉
You need to try this rum
Started drinking it about 5 years ago very smooth one small Ice Cube
Wow
My father bought me this for my birthday! My first taste of "proper rum". Stunning!!! All I can say! I am usually a bourbon man, but wanted to try a decent rum. I was not disappointed!! Truely amazing, bananas and raisins, caramel finish, I mean honestly!! Think I'm a rum fan now.
Very good!
I was pleasantly surprised!
My joint No.1 Fav Rum
Diplomatico reserva exclusiva rum is my go to rum, this XO has now got a place on my top shelf alongside it.
Not as sweet as the Dip but just sa smooth, two bottles on order heading to Singapore.
Re: it absolutley sucks!
lol, are you kidding with us? you just don't want to share this great rum with us!
It doesn't smell to much unfortunaly but the taste is absolutley stunning. A strong taste of vanilla, you can feel almond, coconut and arrack.
A little bit too expensive though.
It absolutely sucks!
The first sip was so gawd awful, I'm going straight back to BevMo to buy every available bottle to protect you dear readers.
Stunning ….Updated
Rating corrected. Best rum I have had!
Stunning
I love a good cognac. VSOP or XO. Thought I'd give this a try because I had a really good Costa Rican rum on the way to the Rolling Stones and thought wow! This is even better. Glad I tried it.
Fantastic
Sweet, spicy, smooth, spectacular
Best rum ever!!!
Its so smooth and so much flavor. It's my favorite right now.
I never knew rum could be this good
I'd never really been a rum drinker before, my only real experience being lambs navy rum or Bacardi. But after trying a sample of this I was blown away by how much different this stuff could be. I had to have a bottle & this is worth every penny. Talk about complex, you definitely get the vanilla and banana coming through strongly on the palate, with just a hint of the bourbon without overpowering any other flavours. I'm Definitely converted and every time I taste this It amazes me. Truly sublime.
amazed by the smoothness
i'm no expert but having tried a few in the Plantation range I thought this was incredible. My last bottle by these guys was finished in an Ice Wine cask, which gave it a whisky flavour. To be honest, I found it disappointing, this however was fantastic. Just looking through past reviews I can understand why someone said the vanilla did almost taste artificial but I liked the comment from the guy who said he would use this to introduce rum to non rum enthusiasts. All in all, at the price a really good spirit
Some serious rum
I'm really in shock with this rum, this thing is amazing! sweet, banana, chocolate cake
The King of Rums.
I've always been into french limousine maturation. And the Plantatiom XO 20th anniversary will probably be the most exuberant Rum you'll ever experience. The bourbon maturation and french oak maturation really give this Rum a completely different character than other Rums like Ron Zacapa 23yr, Zaya, Zafra, Dos Maderas PX 5+5, and Santa Teresa 1796(25yr solera blend). I fell in love with Dos Maderas 2015, and now I can no longer decide which is my favorite. Although, I find myself sipping on Plantation XO often. The Cognac notes from the French oak balances the sweetness from the bourbon casks, giving this rum a complex finish. If your palate wishes to explore the history of this Rum, I strongly suggest you pick it up. This will be that "I want to try something new" that becomes a venerable staple on your private bar. 5/5
El Dorado lover…
Bought this as a treat and to sample something different. Figured it would end up as a high quality mix, like when I buy El Dorado 15. But after sipping the first shot straight, this will never see any mix. Delicious, tame on the tongue, heat after that. Sweetness is different than most rums I've had, more from fruit than from dark sugars. I'm a surprised fan. Now I need to grab my El Dorado 12 for mixing.
Favorite
After trying Mutiple of different Dark Rums, this one is absolutely my favorite one!
very smooth…!
nice easy tipple
very smooth lovely aftertaste already added 2 more bottles to the cart
Very tasty
I certainly enjoyed this rum with its toasted caramel and toffee overtones. I do feel it is a bit warmer/hotter than the Zacapa 23 which is my absolute favorite sipping spirit. Just what we need here in the "Great White North" (aka Canada) on those frosty Saturday afternoons by the fire!!
Not my cup of tea
Lot of expectations yet a lot of artificial vanilla and spice, no body, and quite frankly a ok mixer, I am shocked price/value is long gone and rum reviewers still praise this rum. Maybe it's just me…
sss
good…..
Super smooth!
Best rum I have ever tasted! Very smooth, a little sweet with very little oaky taste. Perfect!
Dark caramel and coconut
Tried it several times; latest right after a superlative La Favorite Cuvee Privilege (a 35 year old rhum agricole from a family-owned distillery in Martinique with extraordinary complexity and length).
It's a sweet rum with very strong notes of burnt caramel in the nose, think top of creme brulee (strong enough to be detected by a non drinker next to me). Smooth in the mouth, with a taste again reminiscent of creme brulee caramel with that sweet-bitter touch. The other dominant note was overwhelmingly coconut in the nose as it disappeared down my throat. So sweet it almost reminded me of limoncello.
Simple and to the point, well balanced, very enjoyable as a dessert or in replacement thereof. Probably the perfect after dinner spirit for non-rum-enthusiasts as well. Oddly enough I think the other Plantation Barbados (5 year?) might be more interesting, although a little less balanced and harsher; more salted caramel, less burnt, and the coconut comes earlier.
Excellent
too bad i finished already the nelsons blood since it was my clear favourite until now… would love to have being able to compare as this now tastes like heaven. maybe the best?
Best Rum yet for me
I love this rum. I'm a malt whisky drinker, but Drambusters Whisky club Dumfries – Scotland) do the occasional rum tastings. I didn't try this one there, but helped by my father and brother being rum drinkers I now really have the taste for rum. I've tried quite a few now, and my wife shelled out for this on my birthday. Three months on, I'm nearly finished the bottle (I eak my bottles out as usually have a few on the go). I would definitely pay the higher than dual cost to get tho saga in. Worth every penny. Great on it's own, over ice or with coke. Also tried with ginger beer. Hints of vanilla dn coconut, fruit and very smooth. Superb.
Yes, it's really good.
Quite possibly one of my top favourites. Bought the first edition with the decanter style bottle and now have the new version bottle as well. Very smooth, like liquid gold. If you like toffe and vanilla this is the one for you.
Best rum ever!
super smooth with a taste of vanilla (very subtle
one of the best ever
it`S a very smooth ,creamy , fruty and with a hint of vanillia simply owsome
Plantation at it's best
Bought this a few months back. A very tasty sipping rum. Smooth and drinkable, lots of caramel and vanilla. Overall a great rum to start of with!
best Ive ever tasted
Wasnt a huge fan of rum before. Think "bacardi & coke" and thats me… now I have to stop myself from buying this or I might get seriously addicted. Nothing better out there imo. Even beats my Macallan 18yo as a nightcap.