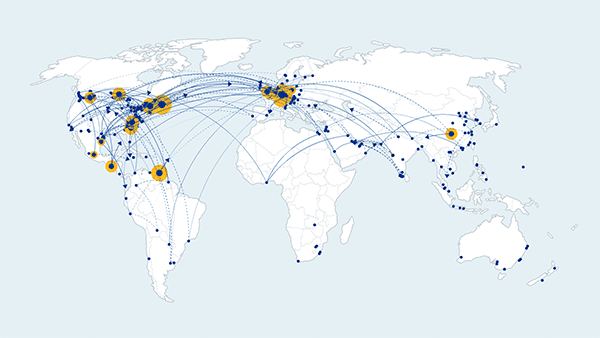 Livingston: Customs Brokerage | Trade Consulting | Freight Forwarding
COVID-19 An important update

Click here to learn about the measures Livingston is taking to combat the spread of COVID-19.

The World Is Your Market

We take care of all importing and exporting complexities, so you can expand your horizons.

Freight Simplified

We provide customized freight
solutions to find the most efficient
and secure way to move goods.

Small Business Big Dreams.

We offer scalable solutions, so you can dream as big as you want.

Smart Data to Help You Trade Smarter

We deliver insights from your trade data so you can make smarter business decisions.

Ground Freight Simplified

We keep goods moving within
and across North America.
Managing
Trade Uncertainty.
Profound changes in global trade are creating unpredictability. Trade deals are being signed and revisited; tariffs are being imposed; regulatory and customs processes are shifting. But change doesn't have to be disruptive.
Canada's
Single Window Initiative.
Are you ready for Canada's Single Window Initiative? Learn about the program, key dates and developments, and how you may be impacted as an importer. We have what you need to do to keep your shipments moving.
Don't let Brexit bite.
A hard Brexit will mean tariffs, taxes and new classifications. Is your business ready to face a post-Brexit world?
Livingston can help ensure you're prepared, so your business doesn't get hit hard by the upcoming changes.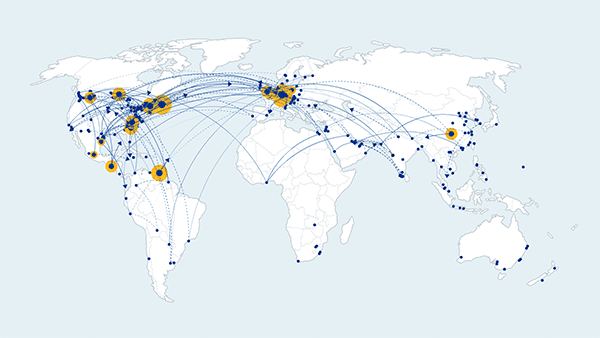 More than a broker, Livingston is your business partner in customs, freight and trade compliance. Our services and solutions are built around you. Whatever you need. Livingston is here to help.
Upcoming Webinar
Is your business Brexit-proof?
DateJuly 15, 2020
Time1:00 PM EDT
CostFree
Duration30 Minutes
With the UK scheduled to leave the European Union (EU) on December 31st 2020, members of the trade community (international…
Featured Resource
Our Experts Speak
We bring together a carefully selected collection of articles, written by our global trade experts. These articles cover the most current and relevant topics in international trade, and provide important insight into how importers and exporters may be impacted.
Trade News
Livingston Trade News is curated by our regulatory experts, and updated regularly. Read up on all the hottest trade topics. In one place.
View All Trade NewsSubscribe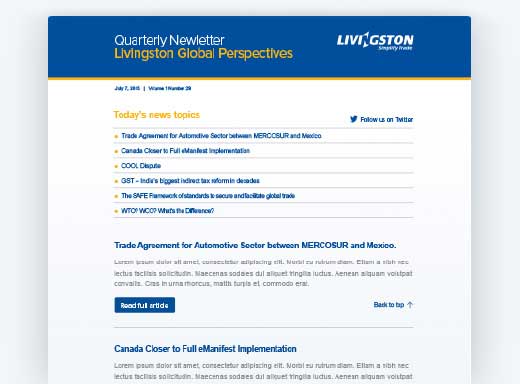 Latest News
Reconciliation under the USMCA
June 22, 2020 – Customs and Border Protection's (CBP's) Free Trade Agreement Reconciliation program will be…
Registrar of Import Vehicles (RIV) Announces Increase to Vehicle Import Fees
June 22, 2020 – Transport Canada's Registrar of Imported Vehicles (RIV) announced that effective August 1,…
Notices to Importers and Exporters for Tariff Preferential Levels (TPL) under CUSMA
June 19, 2020 – Global Affairs Canada issued notices to importers and exporters on the established…
Our website uses cookies and other technologies to enhance functionality, personalize your experiences, better engage with you, and to analyze our website.